Technology Resources
Technology Resources
In keeping with Franklin's relevant and cutting-edge approach to education, the University encourages and supports the use of electronic communication, technology and computing. Franklin's students have a wealth of technology resources available, including a campus-wide network, Internet access, student Web portal, computerized library access, mobile computer labs, computerized classrooms and many computer labs. The University's computer laboratories are located at all locations.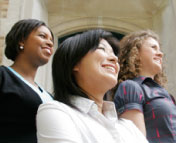 Ready to start an application?
Franklin's student-centered philosophy is one of the many reasons so many students choose us!
START YOUR APPLICATION