CoachingFAQ
Coaching FAQ
What is one-on-one coaching?
Coaching is a collaborative relationship between a coach and a Franklin student, which creates an ongoing practice of personal development. Through discovery and strategic action, effective one-on-one coaching provides the student and the coach with growth and personal and professional development opportunities.
Personal Development Coaching relationships focus primarily on accomplishing your personal and academic goals and succeeding as a Franklin student.
The personal development relationships have proven to be beneficial to both student and coach.
Who can request a coach?
Any enrolled Franklin student may request a Personal Development Coach.
Why should I request a Personal Development Coach?
Students should request a coach to discover ways to:
Balance work, school and life
Think from a different perspective
Boost self confidence and self-awareness
Interact with an objective source of encouragement, support and challenge
Achieve your academic and personal development goals
When can I request a coach?
You may request a Personal Development Coach if you are enrolled and registered as a Franklin University student.
How do I become a coach?
To become a Personal Development Coach, you must:
Hold a bachelor's (Undergraduate) or master's (Graduate) degree from an accredited college or university
Degree requirement exceptions may be made by the Director
Attend free Coaching Training Sessions (held on campus)
What are the Coaching Program Guidelines?
Personal Development Coaching Program Guidelines
Who are the coaches?
Franklin's Personal Development Coaches are successful professionals – many of them Franklin University graduates or certified coaches. They have been through bachelor's or master's degree studies, and are ready to help support undergraduate and graduate students through their chosen program of study. As volunteers, they also bring passion for helping students perform at their full potential.
How are coaches assigned with a student?
The Director matches coaches with students based on their educational background and professional expertise relative to the student's personal development goals.
What's the coaching time commitment?
A total of one to two hours a month is recommended for you to foster a successful, productive partnership. Coaching relationships generally last 3 to 6 months.
How do coaches and students communicate?
You may vary your communication modes for coaching sessions. A combination of face-to-face, phone, and email communication can produce meaningful results.
Who is the Personal Development Coaching Program Director?
Tracy Austin
Phone: 614.947.6774
Fax: 614.255.9518
Is there a cost for this program?
No, it is a complimentary service.
Is the coach a tutor?
No. Franklin's Coaches provide collegial services designed to facilitate progress toward the achievement of your personal development goals.
What's in it for the students?
If you want to achieve success through self-discovery, remove barriers to your education, and move forward with clarity and confidence in your education, you will find the Personal Development Coaching Program worthwhile. Request a Personal Development Coach today!
What's in it for the coaches?
If you want to help a student succeed, expand your leadership abilities and credentials and give back to the community, the Personal Development Coaching Program may be just what you need. Become a coach today!
Who is responsible for maintaining the coaching relationship?
Students are responsible for taking the initiative to maintain the relationship. However, coaches shouldn't hesitate to follow up and encourage communication.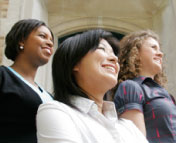 Ready to start an application?
Franklin's student-centered philosophy is one of the many reasons so many students choose us!
START YOUR APPLICATION