Crime Alerts
To promote risk awareness, this page is designed to alert the Franklin University community about new crimes or suspicious behaviors occurring on or near any of our locations.
At approximately 3:15pm on Thursday, 08/07/014, it was reported that a male subject was exposing himself while in the Library using the public computers.
Subject description: Male Black, approximately 5'10", thin build, black basketball shorts, black sandals, black & white horizontal stripped shirt, white ear buds.
Last seen exiting the Grant Street doors towards McDonalds.

If you witness any suspicious person(s) or vehicles in or around Franklin University please contact the Special Duty Officer at (614) 947-6902. In a life threatening emergency dial "911."
If you have information related to any posted alerts, please contact Safety & Security Services at 614.947.6900.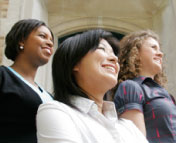 Ready to start an application?
Franklin's student-centered philosophy is one of the many reasons so many students choose us!
START YOUR APPLICATION