Multicultural Student Organization (MSO)
The Multicultural Student Organization (MSO) at Franklin University strives to improve the campus environment and foster connections among the diverse student body. Each enrolled student – regardless of ethnicity, age, gender, sexual orientation, or national origin – is welcome to join.
Members bring together all aspects of minority student life and represent the interests and concerns of all students.
Franklin University Officers:
President – Richard Cooper
Vice President – Lorenzo Lopez
Treasurer – Spencer Goodridge
Interested in joining? Email studentorganizations@franklin.edu for more information.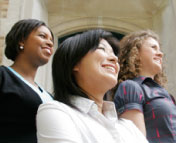 Ready to start an application?
Franklin's student-centered philosophy is one of the many reasons so many students choose us!
START YOUR APPLICATION