Sigma Beta Delta International Honor Society
Sigma Beta Delta International Honor Society encourages and recognizes scholarship and achievement among students in business, management, and administration programs.
The Franklin University chapter's first induction ceremony took place in November 2011, the largest first time induction ceremony in Sigma Beta Delta history.
An annual induction ceremony is held every fall on the third Wednesday and Thursday of November.
Faculty Officers
President -
Dr. Debra Petrizzo
Vice President -
Dr. Beverly Smith
Treasurer -
Dr. Charles Saunders
Secretary -
Laura Hanna
For more information, please email sigmabetadelta@franklin.edu.
Students who rank in the upper 20% of their junior, senior, or master's class are invited by faculty officers to join the society.
Transfer students must also meet the following requirements:
Complete at least 50% of required residency at Franklin University.
Be registered for the next term, or graduating.
Sigma Beta Delta does not discriminate on the basis of age, color, disability, national origin, political affiliation, race, religion, or gender in the administration of membership or other programs.
Sigma Beta Delta membership offers recognition for a lifetime.
Membership includes eligibility to compete for the society's fellowship awards, networking opportunities, and lifetime contact through Aspirations, an online newsletter.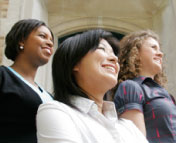 Ready to start an application?
Franklin's student-centered philosophy is one of the many reasons so many students choose us!
START YOUR APPLICATION