Browser Plug-Ins
Plug-ins needed for some areas of our Web site.
Real Player® - by RealNetworksTM
Plays live and on-demand RealAudio and RealVideo.
Download RealOne Player, or view detailed instructions about downloading and installing, as well as additional information in the RealOne Player FAQ.
Acrobat® Reader - by Adobe
For viewing, navigating and printing PDF files.
To be able to view, navigate and print PDF files, you will need to download and install the free Adobe Acrobat Reader. Both downloading and installing are easy for users with Netscape 3.0 or Internet Explorer 3.0 or later browsers because the installation will automatically install plug-ins so that it will work within your browser.

To obtain the free Adobe Acrobat Reader, you can either go directly to the Adobe Acrobat Reader download area (and read more about it), or read about system requirements.
Shockwave - by Macromedia
A series of players that let you view high-quality, streaming content.
Installation:
After installing, you can go to the Shockwave Test Page to determine whether the newly installed software functions properly.
QuickTime - by Apple
QuickTime is a multimedia framework developed by Apple Inc., capable of handling various formats of digital video, media clips, sound, text, animation, music, and interactive panoramic images. This player is required to view certain multimedia videos.
Java
Java is a required plugin that will allow a user to access FranklinLive! as well as many other applications.
If you have just installed Java, restart your browser and verify your installation.
Flash Player - by Adobe
Adobe Flash Player is a multiple-platform client runtime. Web users must download and install the player in order to view and interact with SWF content.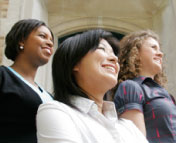 Ready to start an application?
Franklin's student-centered philosophy is one of the many reasons so many students choose us!
START YOUR APPLICATION