Help Desk
Recently, the Franklin University Technology Help Desk made some changes to its request tracking system in order to enhance the level of service that can be provided to all Franklin students and faculty. Anyone with a myFranklin user ID (staff, faculty, student) can now log in to the Help Desk tool with that same username and password, and have access to the following:
A home page with announcements including popular issues and solutions as well as current problem/outage information
A request menu where you can view the status of any of your current Help Desk requests as well as your request history
The ability to submit an incident or a request directly from the Help Desk system
A solutions menu that contains possible resolutions to common problems
To access the self-support portal and request tracking system, please navigate to servicedesk.franklin.edu and log in with your myFranklin username and password.
-----------------------------------------
While pursuing an education at Franklin University, you'll enjoy the most recent technology available. To help you maximize the benefit of this technology, Help Desk staff members are available by phone, email, or instant chat to assist you with the following:
Logging into a class
Logging into email
Retrieving username and password (Student ID or SSN required)
Logging into Computer Science servers
Assisting with basic software applications used at the University
Helping with basic computer literacy
The Franklin University Technology Help Desk requires identification when a student calls, emails, or logs a request, including:
First and last name
Description of problem(s)
Course problems: course name and section number
Application errors (in the Web browser, or in the operating system): exact error message, the task being performed when the error occurred, the number of times the problem has occurred, and whether the computer has been rebooted
This information will provide the technician an effective starting point to the troubleshooting process.
Please click here for current and historical IT outage and status update information.
Stuck? Our Knowledge Base includes, helpful links, frequently asked questions, and solutions to help advance your knowledge and make your computing experience as pleasant and productive as possible.
Can't find a solution in our Knowledge Base? You may also contact the Help Desk by phone, email, chat live with a technician, or create your own ticket.

Local: 614.947.6222
Toll Free: 1.866.435.7006

Work Request: Create your own ticket!
Email: helpdesk@franklin.edu
Instant Message: Chat live with a technician!

Our hours of operation are as follows:
Monday-Thursday: 8:00 a.m. - 8:00 p.m. EST
Friday: 8:00 a.m. - 5:00 p.m. EST
Saturday: 9:00 a.m. - 1:00 p.m. EST
Sunday: 1:00 p.m. - 5:00 p.m. EST
You may need the following plugins in order to view portions of our website:
Adobe Reader
For viewing, navigating and printing PDF files.
Adobe Reader software is the global standard for electronic document sharing. Use Adobe Reader to view, search, digitally sign, verify, print, and collaborate on Adobe PDF files.

To obtain the free Adobe Reader, you can either go directly to the Adobe Acrobat Reader download area (and read more about it), or read about system requirements.

Adobe Flash Player
Adobe Flash Player is a multiple-platform client runtime. Web users must download and install the player in order to view and interact with SWF content.
Java
Java is a required plugin that will allow a user to access FranklinLive! as well as many other applications.
If you have just installed Java, restart your browser and verify your installation.

QuickTime - by Apple
QuickTime is a multimedia framework developed by Apple Inc., capable of handling various formats of digital video, media clips, sound, text, animation, music, and interactive panoramic images. This player is required to view certain multimedia videos.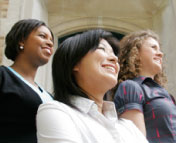 Ready to start an application?
Franklin's student-centered philosophy is one of the many reasons so many students choose us!
START YOUR APPLICATION