Providing Support for ITT Students
As an ITT student, the school's recent and sudden closure has probably left you wondering about your degree-completion options. As a nonprofit, accredited university solely dedicated to improving access to education for busy adults for more than 110 years, Franklin University is committed to helping you finish your degree.
Committed to Your Success
Franklin has made special accommodations to better serve ITT students. For ITT students who enroll prior to September 2017:
Franklin will reduce our residency requirement from 20 hours to 12 for an associate degree and from 30 hours to 16 for a bachelor's degree. What that means to you is that we can accept more transfer credit toward a Franklin degree (up to 52 hours at the associate level or 108 at the bachelor's level) – enabling you to stay on track toward graduation.
Franklin is offering its Learning Strategies class (PF 121 or 321) at no cost. This required, introductory class is designed to provide a smooth transition for undergraduate degree-seeking students.
Offering Transfer-Friendly Academic Options
More than 90% of Franklin students transfer credit from at least one institution. Franklin's generous transfer policy helps you finish your degree faster and get more from your transfer credit. The following programs help you make the most of your previously earned ITT credit:
Associate of Science
Accounting
Computer Science
Information Technology
Bachelor of Science
Accounting
Applied Management
Business Administration
Criminal Justice Administration
Computer Science
Cyber Security
Health Information Management
Information Technology
Transferring Your Credit
MyTransferCredit is a free online tool that can show you how close you are to your bachelor's degree or your associate degree.
By using your unofficial or official transcript, you can find out how your credits will transfer to Franklin – online and at your convenience. Please note, as Franklin has increased transfer credit limits specifically for ITT students, you may be eligible to transfer additional hours that are not reflected in your unofficial evaluation created using myTransferCredit.
Getting Your Official Transcripts
You may have a difficult time getting the necessary official transcripts to transfer your ITT credits to Franklin. To minimize your frustration, we recommend using Parchment, the most widely adopted digital credential service, to obtain your ITT transcripts and have them sent electronically to Franklin University.
To start the process, go to http://www.parchment.com/ITT/
At the site, you'll need to:
1. Create and account.
2. Send your transcripts to Franklin by choosing transcripts@franklin.edu as the destination.
3. Pay the $10 request fee.
At this time, Parchment is anticipating that it will take several weeks after ITT makes its records available to Parchment's systems to fulfill requests.
In anticipation of the longer-than-usual wait times, if you wish to enroll for Fall 2016, you will be able to use unofficial transcripts for your credit evaluation and can begin classes as soon as you are able. However, you must provide your official ITT transcript by the end of the Fall 2016 term.
To obtain your official transcripts for any other institution you have attended, you should go to that institution's website and search for "official transcripts."
Ready to take the next step?
We're ready when you are.
Contact our Admissions Office by email, call Temika Pennyman 614.947.6234 or request more information.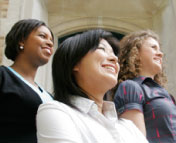 Ready to start an application?
Franklin's student-centered philosophy is one of the many reasons so many students choose us!
START YOUR APPLICATION