News & Events
Teaching Public Administration Conference: June 3-5, 2015
Achieving Impact through Teaching: Strategies, Metrics, and Milestones

TPAC promotes excellence in teaching through shared experience and research and serves as a source of expertise for professors, administrators, students and practitioners.
TPAC 2015 program, proceedings, and presentation slides are available on the ASPA Section on Public Administration Education website. Here are some video highlights from TPAC 2015:
Information about future Teaching Public Administration Conferences can be found on the SPAE website.
TPAC 2015
Tentative Program Overview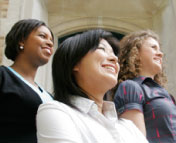 Ready to start an application?
Franklin's student-centered philosophy is one of the many reasons so many students choose us!
START YOUR APPLICATION