About Franklin
About Franklin University
As a private, nonprofit institution, Franklin University was founded in 1902 in Columbus, Ohio, to serve the needs of adult students who have the ambition to continue their education in combination with other responsibilities.
Today, Franklin has grown into the second-largest private university in the state of Ohio. Nearly 45,000 Franklin alumni can be found across the country and around the world serving the communities in which they live and work.
As an accredited, student-centered leader in online learning, Franklin University offers respected, in-demand undergraduate and graduate degree programs. Classes are taught online and at numerous Midwest university locations, and our MBA has broad international reach.
Take classes at your convenience
Franklin offers evening classes, one night a week, at multiple university locations across the midwest, plus all degree programs are offered online. Multiple start dates and flexible scheduling options of six-,12-, and 15-week courses allow you to pursue your education without interrupting other life priorities.
Transfer more of your credits
Franklin accepts more of your previous college and professional education credits than most other institutions – minimizing the time and money it takes to earn your degree. Use our free transfer credit equivalency tool to estimate the number of credits you could transfer to Franklin, how much money those credits are worth, and how quickly you can finish your bachelor's degree.
Visit our Back to College Blog for more information about finishing your degree, or choose a category below by selecting the appropriate header:
Choose Franklin University and you'll experience an intense and sincere focus on you, your education, and your career goals. We'll help you develop the skills you need to stand out in a world of ever-changing expectations and demands. How? By providing the innovative, relevant and up-to-date knowledge that employers seek.

At Franklin, you'll learn to apply critical-thinking, decision-making, and problem-solving skills with an emphasis on current trends in the marketplace. That's an impressive skill set in any industry! Plus, our strong, mutually beneficial business and community relationships help us design coursework that blends theory with real-world practice, which you can apply immediately on the job today - while also preparing you to meet the challenges of tomorrow.
We Have a Rich History
Franklin was established in 1902, and while our roots are in Columbus, our impact reaches far and wide with more than 20 Midwest locations and more than a dozen international partner institutions.

We Help You Start – or Start Over
Franklin's students range in age from the late teens to mid-70s, but the average student's age is in the early-30s.
We Are Global
International students representing more than 70 countries call Franklin their educational home.

We Maximize College Credits
Ninety percent of our undergraduate students have transferred credits from other accredited institutions.

We Save You Money
With competitive tuition rates, Franklin helps you invest in your future by keeping your education affordable.

We Provide Financial Aid
A variety of financial assistance options are available to Franklin students, including grants, loans, scholarships, and our deferred tuition payment option.

We are Student-Centered
Our average class size is 15 students, demonstrating Franklin's commitment to provide a more personal learning environment.

We Expand Educational Opportunity
More than 230 community and technical colleges in the United States have partnered with Franklin University through the Community College Alliance (CCA) Program, allowing students to complete bachelor's degrees online.
We Are Nationally Respected
Franklin University was chosen as one of the original 29 institutions to participate in the delivery of online education to eligible enlisted soldiers via GoArmyEd.

We Are Growing Online
With Franklin's online courses reflecting the same quality as onsite courses, more than 80 percent of Franklin students take at least one online class.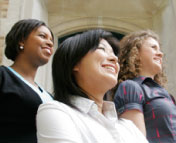 Ready to start an application?
Franklin's student-centered philosophy is one of the many reasons so many students choose us!
START YOUR APPLICATION