Accreditation
Accreditation & Authorization
Earn a high-quality degree from an accredited University
When it comes to choosing a college or university, accreditation matters. Accredited universities and programs are held to rigorous academic standards by state and regional governing bodies, making sure your education is of the highest quality.
Learn more about the different types of accreditation and why they're important.
Copies of the University's accreditation, licensure, or other approval documents may be obtained by submitting a written request to Dr. Pam Shay, Senior Vice President, Accreditation & Institutional Effectiveness. Any questions regarding accreditation, licensure, or approvals should also be directed to the Senior Vice President, Accreditation & Institutional Effectiveness. The agencies that accredit, license, or approve the University may also be contacted for information regarding the University's accreditation and approvals.
HLC Request for Third-Party Comments
Franklin University is seeking comments from the public about the University in preparation for its periodic evaluation by its regional accrediting agency. The University will host a visit April 30-May 1, 2018, with a team representing the Higher Learning Commission. Franklin University has been accredited by the HLC since 1976. The team will review the institution's ongoing ability to meet HLC's Criteria for Accreditation.
The public is invited to submit comments regarding the university to the following address:
Public Comment on Franklin University
Higher Learning Commission
230 South LaSalle Street, Suite 7-500
Chicago, IL 60604-1411
The public may also submit comments on HLC's website at http://www.hlcommission.org/Student-Resources/third-party-comment.html
Comments must address substantive matters related to the quality of the institution or its academic programs. Comments must be in writing.
All comments must be received by April 1, 2018.
Regional Accreditation


Specialized University Accreditation
Franklin University and Urbana University, a Branch Campus of Franklin University, has received specialized accreditation for selected business programs through the International Accreditation Council for Business Education (IACBE) located at 11374 Strang Line Road in Lenexa, Kansas, USA.

View Franklin University's IACBE Public Disclosure of Student Achievement.
View program accreditation details.
Commission on Collegiate Nursing Education (CCNE)
The Bachelor of Science in Nursing (RN-BSN) program and the Master of Science in Nursing (MSN) at Franklin University is accredited by the Commission on Collegiate Nursing Education, 655 K Street NW, Suite 750, Washington, DC 20001 202-887-6791.
Licensure Disclaimer: Requirements for licensure vary from one profession to another and from state to state. If you are considering an online academic program that leads to a professional license in your state, it is highly recommended that you contact the appropriate licensing agency in your home state BEFORE beginning the academic program located outside your state. Academic programs and individual graduates must meet standards set by that state in order to be eligible for a license. Eligibility for licensure and/or certification may involve more than successful degree completion. If you are interested in professional licensure, please check with the appropriate licensing body in the state where you intend to practice.

As a fully accredited online University, Franklin offers online degree programs in every U.S. state and territory. Federal and state regulations require that all institutions of higher education comply with existing state laws regarding distance learning. As these regulations are continuously evolving, Franklin University makes every effort to maintain compliance. As a condition of Franklin University's authority to offer its programs to state residents, several postsecondary education agencies require the publication of certain consumer information. This includes:
Ohio Department of Higher Education
25 South Front Street
Columbus, OH 43215-3414
Phone: (614) 466-6000
Dates of Authorization: February 4, 2009 through December 31, 2018
As of September 14, 2015, Franklin University is approved by the Ohio Department of Higher Education (ODHE, formally OBR) to participate in the National Council for State Authorization Reciprocity Agreements (NC-SARA). NC-SARA is a voluntary, regional approach to state oversight of postsecondary distance education. Institutions that are members of SARA are authorized to provide online education to students from all SARA member states. States and institutions that choose to become members of SARA operate under a set of policies and standards that are overseen by the National Council for State Authorization Reciprocity Agreements and administered by four regional higher education compacts. For more information about the SARA initiative and the progress of state and institutional membership, please visit http://nc-sara.org/sara-states-institutions
__________________________________________________________
This institution is authorized by:
Board for Proprietary Education
Indiana Commission for Higher Education
101 West Ohio Street, Suite 670
Indianapolis, IN 46204
Telephone: (317) 464-4400 Extension 138
Fax: (317) 233-4219
________________________________________
Arkansas Higher Education Coordinating Board Certification*
Arkansas Department of Education
423 Main Street, Suite 400
Little Rock, AR 72201
Phone: (501) 371-2000
*Arkansas Higher Education Coordinating Board certification does not constitute an endorsement of any institution or program. Such certification merely indicates that certain criteria have been met as required under the rules and regulations implementing institutional and program certification as defined in Arkansas Code §6-61-301.
__________________________________________________________
Illinois Board of Higher Education – Operating and Degree Granting Authorization in Illinois
Illinois Board of Higher Education
431 East Adams St, 2nd Floor
Springfield, IL 62701-1418
__________________________________________________________
The Kansas Board of Regents
1000 SW Jackson St, Suite 520
Topeka, KS 66612-1368
__________________________________________________________
Kentucky Council on Postsecondary Education
1024 Capital Center Drive, Suite 320
Frankfort, KY 40601
__________________________________________________________
Registered by:

Maryland Higher Education Commission
6 North Liberty
Baltimore, MD 21201
__________________________________________________________

Minnesota Office of Higher Education**
1450 Energy Park Drive, Suite 350
St. Paul, MN 55108-5227
** Franklin University is registered as a private institution with the Minnesota Office of Higher Education pursuant to Minnesota Statutes, sections 136A.61 to 136A.71. Registration is not an endorsement of the institution. Credits earned at the institution may not transfer to all other institutions.
__________________________________________________________
Oklahoma State Regents for Higher Education
655 Research Parkway, Suite 200
Oklahoma City, OK 73104
__________________________________________________________
Texas Higher Education Coordinating Board
Franklin University is not regulated under Chapter 132 of the Texas Education Code, and is not required to hold state authorization for the enrollment of Texas residents.
__________________________________________________________
State of Wisconsin Educational Approval Board
30 W. Mifflin St., 9th Floor
P.O. Box 8696
Madison, WI 53708-8696
__________________________________________________________
Wyoming Department of Education
2300 Capitol Avenue
Hathaway Building, 2nd Floor
Cheyenne, WY 82002-0050
Franklin University offers online degree programs in every U.S. state and territory.
Academic programs may not be approved in every state. Click on the State Authorization Map link below to view the program you wish to complete. Please contact your academic advisor to verify program availability.
Username: viewer
Password: saView2016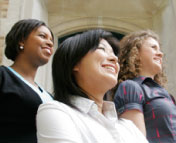 Ready to start an application?
Franklin's student-centered philosophy is one of the many reasons so many students choose us!
START YOUR APPLICATION