Consumer Information
Placement in Employment
The Higher Education Act of 1965 (HEA), as amended by the Higher Education Opportunity Act of 2008 (HEOA), requires that colleges and universities disclose job placement and employment information to current and prospective students, if such data is collected.
Because Franklin University's student body is composed primarily of working adults, many of whom are already employed, the University does not compile jobs data or calculate placement rates.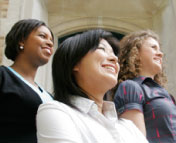 Ready to start an application?
Franklin's student-centered philosophy is one of the many reasons so many students choose us!
START YOUR APPLICATION