Dr. Decker
Dr. David R. Decker
Franklin University President
Dr. David R. Decker became President of Franklin University in August 2007, bringing with him extensive experience in academia and the corporate world.

Under Dr. Decker's leadership, Franklin is busy executing an ambitious strategic plan that includes increasing the depth and breadth of academic programs, expanding to new domestic locations, and establishing programs in emerging global markets.

Some of the significant strides made include:

Maximum 10-year reaccreditation granted by The Higher Learning Commission
Educational partnerships with nine academic institutions in Europe, the Middle East, and Asia
Alliances with more than 200 community colleges across the country
Regional location in Beavercreek, Ohio and Indianapolis, Indiana
Specialized accreditation of the Franklin business degree programs by The International Accreditation Council for Business Education (IACBE)
New graduate and undergraduate programs added and existing courses strengthened
Faculty and staff strengthened with the addition of new members from across the country and around the world
Core campus enhanced through infrastructure improvements and physical site enhancements
Designation by the U.S. Department of State (DOS) as a sponsor of the Exchange Visitor Program
Creation of the International Institute for Innovative Instruction ("the Institute")
New partnership agreement with Urbana University, a private university in west central Ohio, creating a new division of Franklin University

Academic Experience

Prior to coming to Franklin, Dr. Decker served as the Vice President for Global Academic Programs and Dean of the School of Management at the New York Institute of Technology (NYIT) where he played a key role in the internationalization of NYIT and in the development of its online presence.

Before joining NYIT, Dr. Decker served in a variety of roles over a 10-year-period at Youngstown State University. He held an endowed chair in entrepreneurship, served as Founding Director of the Williamson Center for International Business, served as interim Dean of the Williamson College of Business Administration, and played an active role in the business and economic development of the community. Throughout his tenure at Youngstown State, Dr. Decker held faculty rank as a Full Professor of Marketing.

Dr. Decker's academic credentials also include faculty posts at three other universities and international teaching experience in China, Malaysia, Russia, Mexico, Spain, Germany, Brazil, and Jordan. He is fluent in Spanish and Portuguese and also speaks Russian.

Corporate Experience

Dr. Decker served as President and Chief Executive Officer of a $130 million manufacturing company, and held vice presidential positions in management information systems and marketing at a Fortune 200 company. He has conducted executive development programs in Asia, Europe, and Latin America.

A native of Philadelphia, Dr. Decker is the author of two books on economic and business issues in Latin America, along with numerous articles and presentations on higher education, marketing, and literature. He earned his B.A. degree from Grinnell College, his M.A. and Ph.D. from the University of Kansas, and his MBA from the Wharton School of the University of Pennsylvania.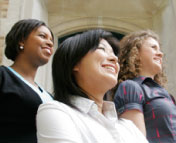 Ready to start an application?
Franklin's student-centered philosophy is one of the many reasons so many students choose us!
START YOUR APPLICATION