Four Cornerstones of Educational Philosophy
Ensuring Academic Quality
Ensuring academic quality

A cornerstone of Franklin's educational philosophy
Franklin University expands the term "academic quality" beyond its conventional definition to include elements specific to our nontraditional student body. From the students' perspective, quality largely equates to the experience they have in the classroom, whether on campus or online.
As educators, we are responsible for ensuring an excellent learning experience by providing the planning, resources, and assessment that culminate in courses that contribute to the achievement of program outcomes in support of students' overall educational and professional goals.
---
Curriculum Development Team
Student Learning and Effective Teaching
Teaching and Learning
Faculty Scholarship
Organization Relationships and Partnerships
Curriculum Development Team
Franklin's curriculum development process is central to maintaining the academic quality of its programs and courses.
One of the hallmarks of the University's success is our innovative and effective curriculum development approach. The team involved in curriculum development consists of doctorally trained faculty and external content contributors who are selected based on their areas of expertise, qualifications, knowledge, and skills. Collectively, the team members take on a variety of academic responsibilities and work on the curriculum design, drawing strength from their substantial academic preparation and professional experiences.
Maintaining quality academics, from Franklin University's perspective, entails:
Selecting, developing, and overseeing of faculty with credentials appropriate to the courses they teach and additional responsibilities they fulfill

Providing education consistent with the accreditation standards, industry trends, and developments in the field of higher education

Using industry experts to both contribute to the development of curricula and teach it in combination with a meaningful infusion of their own professional experience

Ensuring that all students benefit from a consistent, well-rounded curriculum that creates a cohesive program of study

Adapting to the needs of nontraditional students to provide an education that is relevant to their professions and lifestyles

Providing the learning, experiences, and knowledge that students desire
Course Design. Each course is designed and assessed by a course development team consisting of course development faculty, instructional design faculty, instructional faculty, and external content contributors.
In addition, each program has an external program advisory board comprised of industry professionals who provide the program chair with feedback on current program design features and input for curriculum planning and improvements.
Student Learning and Effective Teaching
Franklin values and supports effective teaching, as illustrated by the University's qualified faculty, assessment standards, standardized curriculum development, instructional aids, and faculty guides. These factors, along with resources and policies, help deliver consistent, quality education to students.
The University supports professional development designed to facilitate effective teaching.

The support and preparation that Franklin provides ensures its faculty are well equipped to succeed in the classroom.

Because assessment is a vital component of ensuring effective learning, the institution makes resources available in support of assessment initiatives.

Assessment results inform improvements in curriculum, pedagogy, instructional resources, and student services.
Through pedagogical study, practice, and observation, the University has come to support the following beliefs:
Teaching. The most effective teaching reflects an understanding of learning as multidimensional, integrated, and consistently demonstrated by the student over a sustained period of time.
Assessment. To gauge a student's learning success, the University must identify what students actually know and what they can do with this knowledge through assessment. Only through effective assessment of student learning can the University improve education. This assessment must be measurable to lead to improvement.
Teaching and Learning
With over nearly 700 active part-time adjunct faculty, the Center for Excellence in Teaching and Learning (CETL) seeks to utilize advanced technical capabilities and comprehensive evaluation processes to make data-informed decisions related to teaching and learning assessment, high quality faculty development course offerings, and teaching and engagement opportunities for credentialed and highly qualified faculty for both internal programs and external partners. CETL is charged with implementing methods to compare teaching performance with educational purposes and expectations that are derived from the University's mission, program and course designs, as well as from knowledge of how students best learn.

Faculty Scholarship
The view of faculty scholarship at Franklin is broad and encompasses activities that lead to intelligent practice in course development, course quality assurance and instruction, and effective teaching. Ultimately, the University's primary focus of faculty scholarship is to feed academic quality and support the preparation of students for the realities of the world they face.
In support of this position, Franklin bases its conception of scholarship on Ernest Boyer's work, as discussed in Scholarship Reconsidered: Priorities of the Professorate. From this perspective, scholarship includes four interrelated facets: Integration, Discovery, Teaching, and Engagement.
Scholarship of Integration features most prominently in the work of Franklin's faculty. This involves:
Conducting literature reviews on course content
Incorporating real-world scenarios based on interactions with external content contributors
Integrating academic content across academic disciplines
Illuminating theory in light of practice
Designing learning material in a way that allows content to inform intelligent practice
These activities are done through the preparation of new materials for use in courses, creation of teaching aids, and via interaction with course development team members so that their collective knowledge informs the design of curriculum and instruction.
Three other forms of scholarship, as noted by Boyer, work hand in hand to support the primary activity of the faculty.
Scholarship of Discovery, in Boyer's view, "contributes not only to the stock of human knowledge but also to the intellectual climate of a college or university."
Scholarship of Teaching addresses the responsibility of the faculty to be knowledgeable of course content and delivery, and to effectively teach
Scholarship of Engagement includes professional service or work based on the faculty member's field of expertise. The assumption is that experience in practical settings leads to a better understanding of the practical consequences and real effects of theories espoused in the classroom, while a better understanding of the practical consequences leads to the formulation of better theories and better course materials, eventually benefiting students and the society they serve.
Organization Relationships and Partnerships
In an effort to determine the effectiveness of Franklin's educational offerings, the institution taps into the collective knowledge of program advisory boards and, at all levels of the University, maintains relationships with business leaders. These contacts include site visits by representative of Franklin's Advancement and Strategic Relations department. This level of community involvement and solicitation of knowledge from industry professionals is an important element in keeping Franklin's offerings, programs, and curricula relevant to the world in which its graduates must succeed.
Franklin utilizes employers in central Ohio as an assessment resource. Input from these employers is considered essential in the evaluation of the University's programs and the thoroughness and relevance of education from Franklin University as it applies to the workplace. Franklin considers the significant number of area companies that employ Franklin University alumni and students to be concrete evidence of the success of the University's programs in preparing students to function effectively in a global, diverse, and technological society.
International companies such as Nationwide, Huntington Banks, and Cardinal Health are headquartered in Columbus and have Franklin graduates working in locations around the world.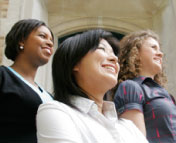 Ready to start an application?
Franklin's student-centered philosophy is one of the many reasons so many students choose us!
START YOUR APPLICATION