Four Cornerstones of Educational Philosophy
Responding to changes
Responding to changes in society, professions, and the business community

A cornerstone of Franklin's educational philosophy
Because it is part of Franklin University's operating philosophy to anticipate and prepare for the future, the institution continuously engages with internal and external constituencies to gain insight into their educational needs and expectations, now and into the future.
Over the past decade, the University has identified significant societal and economic trends such as:
A movement toward a knowledge economy focused on the production, management, and use of knowledge for economic gain

A dramatic increase in the mobility of labor and capital in world markets

An ever-increasing reliance on technology and the resulting interconnection of the global market

A trend of American students away from math, science, and technology-related careers, compromising the nation's ability to compete on a global scale
Consequently, Franklin works to define and to respond to trends by providing students with an education that prepares them to accept the inevitability of change and develop the mindset and skills to adapt to those changes through their careers.
---
Feedback Analysis
Research
Advisory Boards
Board of Trustees
New Programs
Partnerships with Organizations
Employment of Alumni and Students
Franklin faculty members use a continuous quality improvement approach to updating and improving courses and programs. Program chairs and course development teams regularly analyze feedback from students, alumni, and instructors, as well as input from external content contributors and program advisory board members to determine the relevance of course content, activities, and assignments.
In addition to using individual student and alumni input to inform improvements, the University also engages in both qualitative and quantitative research methods to assist in determining the current and future needs of students and to assure that Franklin University is meeting them.
The Provost and Senior Vice President for Academic Affairs, in collaboration with the faculty and other institutional resource providers, conducts research and identifies new potential academic offerings that meet the needs of the students and their potential employers, as well as fulfill the mission of the University.
Program chairs rely on advisory boards to provide information related to the most recent trends in each field of discipline to help shape program outcomes and ensure the relevancy of the program, course content, and materials. Advisory boards are in place for each academic program and consist of community professionals accomplished in their fields.
Franklin is governed by a Board of Trustees comprised of respected business and community leaders. Members of the University's Board apply their extensive business and professional experience to help guide the direction of the University and help it effectively adapt to anticipated changes in society and the business community.
Franklin University's method of program development includes keeping abreast of industry trends and seeking input from discipline-specific experts to keep existing programs relevant and introduce new programs to respond to – and even anticipate – changing and emerging industries.
To keep its academic offerings current and relevant to society professions and the business community, it is important for Franklin to constantly scan environmental trends and projections. From these scans, opportunities for potential new majors and degree programs can be identified, as well as declining demands for existing offerings.
Ideas for new majors may originate with faculty members, advisory boards, outside resources, or University administration. Upon Department Chair approval of an idea for a new major, extensive research is conducted to assess the relevancy of the major in the marketplace and determine the courses and content that should be included to make the major relevant.
Partnerships with Organizations
As part of its ability and desire to respond to changes in society, professions, and the business community, Franklin has a diverse group of external constituencies – from partner schools in its alliance programs, to employers providing tuition-reimbursement to students, to companies that employ its students and graduates. Franklin works to stay in close contact with each external constituent group to assess needs and find ways that University services can meet those needs.
Franklin has a proud history of interaction on many levels. The University engages constituencies not only to provide service, but also to incorporate them into the University's planning process and to build solid relationships that benefit the University, its constituencies, and the community at large.
Three examples of these relationships:
Community College Alliance (CCA)
Established in 1998, this program applies Franklin's transfer credit policies as it formalizes articulation agreements between the University and community and technical colleges throughout the United States. Community college students are able to transfer their associate's degree credits and complete a bachelor's degree - either online or onsite at Franklin.
GoArmyEd and Army National Guard
Franklin partners with the U.S. Army to offer courses and degree programs to eligible enlisted American soldiers. In 2001, Franklin University was one of the original institutions chosen by the Army to participate in the delivery of online education to enlisted soldiers. The University was recently named a top "Military Friendly University" and remains a preferred education provider.
Ohio Department of Higher Education
Franklin University actively supports initiatives led by the Ohio Department of Higher Education, such as the Articulation and Transfer Advisory Council. In addition, Franklin is tied to the Ohio Department of Higher Education through ongoing support of the state's Strategic Plan for Higher Education. The strategic plan aims to close the gap between Ohio and competitor states and nations by doubling the number of college graduates, keeping them in Ohio, and attracting more degree holders from out of state. Toward this end, Franklin is united with industry leaders and educators to create new educational pathways for adult students.
Employment of Alumni and Students
The strength of Franklin University's ties to the community and its ability to respond to changes in professions are reflected in the number of Franklin students and alumni employed by local area companies. Not only do they bring valuable skills to the workplace, but their influence also impacts the University's overall effectiveness and reputation.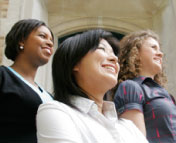 Ready to start an application?
Franklin's student-centered philosophy is one of the many reasons so many students choose us!
START YOUR APPLICATION