Four Cornerstones of Educational Philosophy
Providing access to educational opportunities
A cornerstone of Franklin's educational philosophy
Responding to the needs of students and society, Franklin's access to education provides enhanced opportunities for students from a wide range of work-life circumstances, socioeconomic and academic backgrounds, and locations.
The course formats, admissions policies, and support services enhance educational opportunity and include multiple physical locations, online learning, flexible scheduling, maximized transfer of college credit, affordable tuition, rolling admission, and class-section accommodation.

Multiple physical locations
Online learning
Maximized transfer of college credit
Flexible scheduling
Affordable tuition
Rolling admission
Multiple Physical Locations
For on campus classes, the University offers instruction at our Main Campus in downtown Columbus, Ohio, at three suburban locations, and at a regional location in Beavercreek, Ohio offering convenience for those who may work or live in nearby communities.
The University also co-locates on the campuses of community college partners -- offering an opportunity for students to seamlessly build on their associate's degree credits and complete their bachelor's degree onsite.
For more information about the University's locations, please visit our Locations page.
Online education has shown explosive growth in the last ten years, and Franklin has met and measured the challenges brought on by this growth.
At the forefront of the colleges and universities in the United States offering online degree programs, Franklin's first courses were adapted for online learning in 1998. Franklin's online curriculum offers you the same quality learning experience as our on-campus students.
Over the last decade, Franklin's online enrollment has grown significantly and today comprises about 80% of the University's credit hours. We have made large investments in technology, staffing, and assessment mechanisms enabling this growth. Concurrently, Franklin has been vigilant in preserving high academic quality and student service.
This development illustrates how Franklin has responded to changes in technology and society in a manner that increases access to educational opportunity for students.
Maximized Transfer of College Credit
Franklin works to minimize loss of previously earned college credit and maximize the opportunity for individuals to transfer credit from another academic institution to Franklin University. Today, approximately 90% of the University's undergraduate students transfer college credits from at least one other institution.
Yet beyond the convenience and flexibility transferring to Franklin can offer to students, the University is highly cognizant of the responsibility associated with ensuring that the degrees it confers are respected and valued. Doing so is integral to Franklin's dedication to prepare our students to meet the requirements of a society that expects to benefit from the learning achieved.
Therefore, with an eye on emphasizing institutional integrity, the University employs a detailed structure to effectively access the course credits students wish to transfer to Franklin. An entire department is dedicated to overseeing the review and processing of transfer credit based on foundational requirements established by the faculty of the University.
Courses are offered in a variety of lengths (6-, and 12-week formats) to meet students' scheduling needs.
In an environment characterized by rapidly rising tuition rates that can create a substantial barrier to higher education, Franklin is committed to managing tuition costs. As a result, Franklin University continues to maintain competitive tuition rates. In addition, Franklin's generous transfer credit policy helps students maximize the value of previously earned credit, as well as professional training and certification in order to reduce both tuition cost and time to degree completion.
Affordable tuition allows Franklin University to attract students from various socioeconomic groups and provides educational access to many who otherwise may be unable to afford a college education.
Students are provided with flexible payment options, thereby removing another barrier for those who may struggle to balance education costs with other living expenses, or who may be dependent upon employer reimbursement.
Franklin's rolling admissions process permits students to enroll in courses at various points throughout the academic year, rather than being restricted to a primary enrollment period.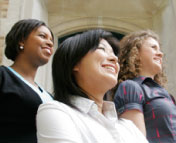 Ready to start an application?
Franklin's student-centered philosophy is one of the many reasons so many students choose us!
START YOUR APPLICATION