About Franklin
Sign Up Success
Thank you for signing up to receive our newsletter. You will receive the newsletter twice per month, and it will be sent to you from newsletter@franklin.edu. Please take a moment to add that email address to your address book to ensure timely delivery of future newsletter emails.
The newsletter will arrive in digest format, and will contain synopses of recent Back to College Blog content, along with links to full articles, infographics, and other relevant content.
At Franklin University, we value your privacy immensely. We will never sell or provide your email address to any third party at any time for any reason.
Welcome aboard!
Best Regards,
Franklin University
Newsletter Administrators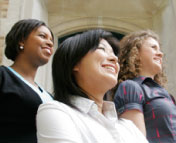 Ready to start an application?
Franklin's student-centered philosophy is one of the many reasons so many students choose us!
START YOUR APPLICATION