Franklin University Announces New Military and Veteran Student Lounge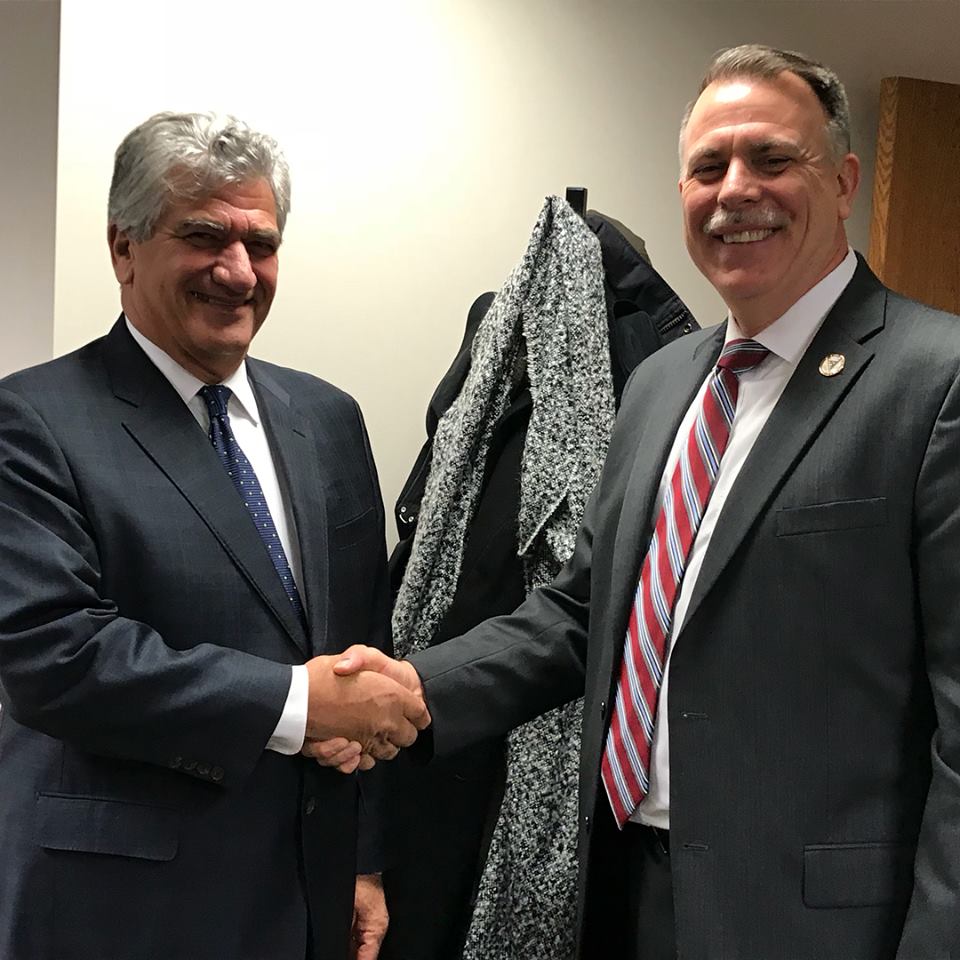 Columbus, OH (November 16, 2018)
Franklin University, one of the leading educators of working adults, announced this week's opening of the new Military and Veteran Student Lounge.  In celebration of its completion, veteran and service member students, faculty and staff joined Dr. David Decker, President of Franklin University, for a special grand opening event. In addition to campus attendees, representatives from the Ohio Department of Veterans Services and Ohio National Guard joined in the grand opening celebration.
Open to veterans, service members, their spouses and dependents, the lounge is located in the lower level of the Paul J. Otte Center for Student Services building and provides this honored group of students a dedicated space to relax, study, unwind, enjoy coffee, and mingle with others who have similar experiences and backgrounds. Specific amenities include a television, chairs, coffee maker, a computer workstation, and a conference table.
The creation of a Military and Veteran Student Lounge strengthens Franklin University's efforts to support U.S. military veterans, service members and their spouses/dependents who wish to pursue a degree and receive the assistance they need to be successful. The new lounge adds to the list of accomplishments the University has amassed in support of its commitment to serving those who have or currently serve.  Other accomplishments include priority registration, graduation cord designation, centralized advising and VA benefit support, and Service Appreciation Award (veterans).
""Veterans, service members, their spouses and dependents deserve our support and respect," Dr. Decker said at the grand opening. "Franklin honors their patriotism and is proud to inaugurate this lounge as a small symbol of our gratitude to this very special group of Franklin University students.  We were especially honored to be joined by the Vice Chair of our Board of Trustees, Clarke Price, and by the Director of Ohio's Department of Veteran Affairs, Chip Tansill and Assistant Director Mark Cappone."
For pictures from the Nov. 15 event, visit Franklin University's Instagram page at: https://www.instagram.com/franklinuniv/
For video of Dr. David Decker's event speech, visit: https://bit.ly/2PuvTmQ
For information on Franklin University's military and veterans benefits: https://www.franklin.edu/admissions/military-veterans/military-educational-benefits
About Franklin University
Accredited, nonprofit and dedicated to educating adults since 1902, Franklin provides on-site course options at our Main Campus in downtown Columbus, Ohio, and is an innovator in providing personalized online education. The University offers applied in-demand undergraduate, master's and doctorate programs that enable adult learners to achieve their educational and professional goals. The University also offers several academic programs internationally, including its top-ranked MBA, through agreements with partner institutions.
Franklin University is accredited by The Higher Learning Commission and holds specialized accreditations for specific academic programs through the International Accreditation Council for Business Education, the Commission on Collegiate Nursing Education and the Commission on Accreditation of Health Informatics and Information Management Education. Franklin is only one of three schools in Ohio designated as a National Center of Academic Excellence in Cyber Defense Education (CAE-CDE) by the National Security Agency and the Department of Homeland Security.