Franklin University Hosts Inaugural White Coat Ceremony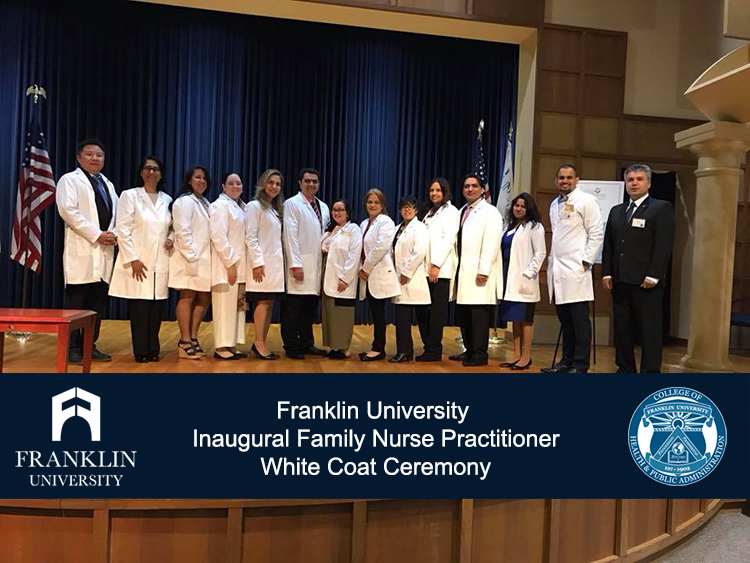 Columbus, OH (May 8, 2019)
Franklin University's newest nursing students took their first steps toward becoming family nurse practitioners (FNP) on Saturday, May 4, when they participated in the white coat ceremony.
The White Coat Ceremony is designed as a rite of passage to emphasize the importance of compassionate patient care at the very start of training. In addition to reciting the oath, students come forward during the ceremony to be "cloaked" before family and friends in the iconic white coat that signifies their status as healthcare professionals.  In addition, each student received a pin emblazoned with the gold Mobius loop, symbolizing the continuous bond of trust, respect, and communication between healthcare professionals and patients.
The White Coat Ceremony was initiated in 1993 at Columbia University Vagelos College of Physicians & Surgeons by The Arnold P. Gold Foundation. Arnold P. Gold, MD, a Columbia professor, believed that the oath to compassionate patient care taken by new physicians at the end of medical school came too late. Today, nearly every medical school in the United States, hundreds of nursing schools, and many other health profession schools participate in this tradition of humanistic care.
Dr. Debbie Conner, FNP Program Chair, kicked off the ceremony, held on Franklin University's main campus in downtown Columbus, Ohio. Other University members addressing the inaugural white coat group included Dr. Jonathan McCombs, Dean of the College of Health and Public Administration; Christi Cabungcal, Chief of Staff and Senior Vice President, Administration; and Dr. Elizabeth Hoover, lead faculty within the FNP program. Dr. Wendell Seaborne, Senior Vice President for Academic Affairs held the esteemed honor of "cloaking" each student as they walked on stage.
"Transitioning from the role of the registered nurse to advanced practice is an important time in both career development and role socialization," said Dr. Debbie Connor. "This ceremony emphasizes the importance of this transition. We are grateful to the Gold Foundation for their support in this important event."
Immediately following the ceremony, the nurse practitioner students began preparing for their clinical experience with a hand-on skills and assessment lab focusing on the areas of suturing and staples, abscess I&D, assessment, and women's and men's health.
The Oath
As a Nurse Practitioner student dedicated to providing the highest quality care and services, I solemnly pledge that I will: Consider the welfare of humanity and relief of suffering my primary concerns; Act in a compassionate and trustworthy manner in all aspects of my care; Apply my knowledge, experience, and skills to the best of my ability to assure optimal outcomes for my patients; Exercise sound professional judgment while abiding by legal and ethical requirements; Accept the lifelong obligation to improve my professional knowledge and competence; Promote, advocate for, and strive to protect the health, safety, and rights of the patient. With this pledge, I accept the duties and responsibilities that embody the nursing profession. I take this oath voluntarily with the full realization of the responsibility with which I am entrusted by the public.
About the Family Nurse Practitioner Program
Franklin's M.S. in Nursing-Family Nurse Practitioner (MSN-FNP) track prepares students to work in the primary care setting managing the health of individuals and families. Students gain the knowledge and clinical skills necessary for the assessment and management of common acute and chronic illnesses, health promotion and disease prevention for individuals throughout their lives. Upon completion of the degree, graduates will be eligible to apply to sit for the Family Nurse Practitioner certification examinations offered by the American Nurses Credentialing Center (ANCC) or the American Association of Nurse Practitioners (AANP). Learn more about the M.S. in Nursing-Family Nurse Practitioner program: https://bit.ly/2WubD4j
Congratulations to Franklin University's inaugural class of FNP students!
About Franklin University
Accredited, nonprofit and dedicated to educating adults since 1902, Franklin provides on-site course options at our Main Campus in downtown Columbus, Ohio, and is an innovator in providing personalized online education. The University offers applied in-demand undergraduate, master's and doctorate programs that enable adult learners to achieve their educational and professional goals. The University also offers several academic programs internationally, including its top-ranked MBA, through agreements with partner institutions.
Franklin University is accredited by The Higher Learning Commission and holds specialized accreditations for specific academic programs through the International Accreditation Council for Business Education, the Commission on Collegiate Nursing Education and the Commission on Accreditation of Health Informatics and Information Management Education. Franklin is only one of three schools in Ohio designated as a National Center of Academic Excellence in Cyber Defense Education (CAE-CDE) by the National Security Agency and the Department of Homeland Security.