Franklin University's Dr. Chenelle Jones and Dr. Alex Heckman to Receive 2020 Central Ohio Social Justice Awards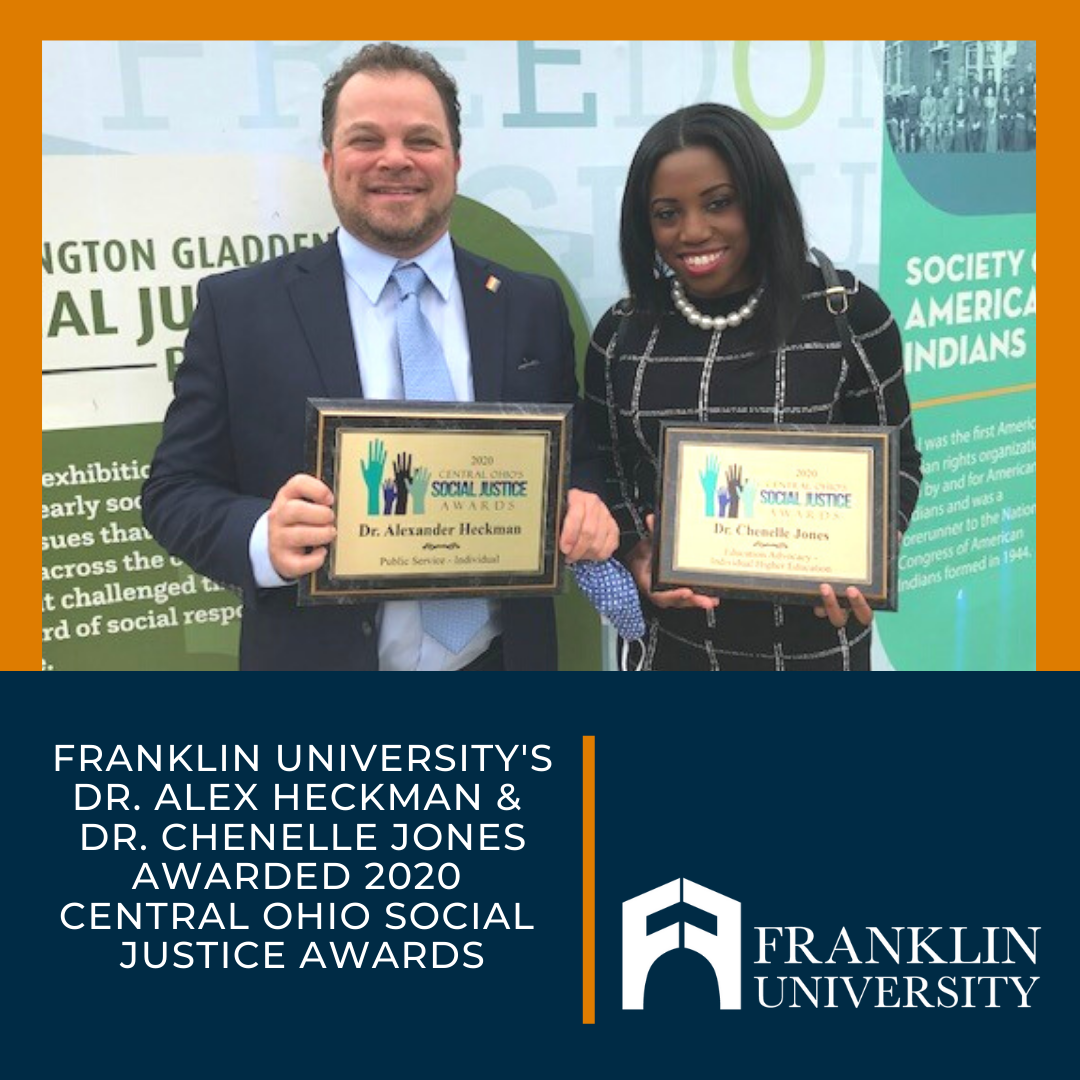 Columbus, OH (August 24, 2020)
Franklin University, one of the leading educators of working adults in central Ohio, is proud to announce that Dr. Chenelle Jones, assistant dean, Community Engagement, and chair, Public Safety programs, and Dr. Alex Heckman, department chair and program chair, Public Administration have been selected to receive awards in Educational Advocacy and Public Service for this year's 2020 Central Ohio Social Justice Awards. The virtual awards ceremony will be held on Sunday, Sept. 20, 2020 at 2 p.m., on the Whova Virtual platform.
The Social Justice Awards is an awards ceremony dedicated to honor outstanding social justice leadership. Recipients are nominated by members of the community and those engaged in the social justice movement for their outstanding work and leadership.
Dr. Chenelle Jones:  Education Advocacy Award within Higher Education
Widely recognized as a superb scholar and important contributor within the community, Dr. Jones' accolades include being named to Columbus Business First's 40 under Forty list; and selection as an Outstanding Author Contribution in the 2018 Emerald Literati Awards for her article The New Jane Crow: Mass Incarceration and the Denied Maternity of Black Women.
Dr. Jones received her Ph.D. in the Administration of Justice from Texas Southern University in Houston, Texas. Her research interests include race and crime, policing, and juvenile delinquency. In furtherance of her academic interests, Dr. Jones serves as a member of several community and professional organizations, such as the National Director of Research for the Teen and Police Service (TAPS) Academy, a federally funded program designed to reduce social distance between police officers and youth. She has also written numerous articles and book chapters on public perceptions of the police, race, and the administration of justice, and is the co-editor of A Critical Analysis of Race and the Administration of Justice.
Dr. Alex Heckman:  Public Service Award (Individual)
As public servant for more than 20 years, Dr. Heckman is noted for his diligence to the community, including serving as a Westerville School Board member, a performance audit manager for the Ohio Auditor of State, and a non-partisan budget and policy analyst for the Ohio Legislature. He currently serves the people of Westerville as a member of Westerville City Council and volunteers for Court Appointed Special Advocates (CASA) of Franklin County. Dr. Heckman's key accomplishments on City Council include championing multiple programs to help low income residents, enacting a LGBTQ non-discrimination ordinance, and advancing sustainability and public transportation initiatives.
Dr. Heckman received his Ph.D. in Public Policy & Management from The Ohio State University. His areas of expertise include ethical leadership, policy analysis and implementation, program evaluation, and organizational performance improvement. In addition, Dr. Heckman has published research in the Journal of Public Administration Research and Theory and the Public Management Review.
The University congratulations Dr. Jones and Dr. Heckman for being contributing to the community, and being outstanding social justice leaders.
About Social Justice Awards – Central Ohio
The annual Social Justice Awards is a fundraiser event to support Think Make Live Youth, a nonprofit youth empowerment organization. The Social Justice Awards was founded by executive director, Terry Green, as a dedication to honor outstanding social justice leadership.
About Franklin University
Accredited, nonprofit and dedicated to educating adults since 1902, Franklin provides on-site course options at our Main Campus in downtown Columbus, Ohio, and is an innovator in providing personalized online education. The University offers applied in-demand undergraduate, master's and doctorate programs that enable adult learners to achieve their educational and professional goals. The University also offers several academic programs internationally, including its top-ranked MBA, through agreements with partner institutions.
Franklin University is accredited by The Higher Learning Commission and holds specialized accreditations for specific academic programs through the International Accreditation Council for Business Education, the Commission on Collegiate Nursing Education and the Commission on Accreditation of Health Informatics and Information Management Education. Franklin is only one of three schools in Ohio designated as a National Center of Academic Excellence in Cyber Defense Education (CAE-CDE) by the National Security Agency and the Department of Homeland Security.