Assistant Dean, Dr. Gardner Selected as Fulbright Specialist Roster Candidate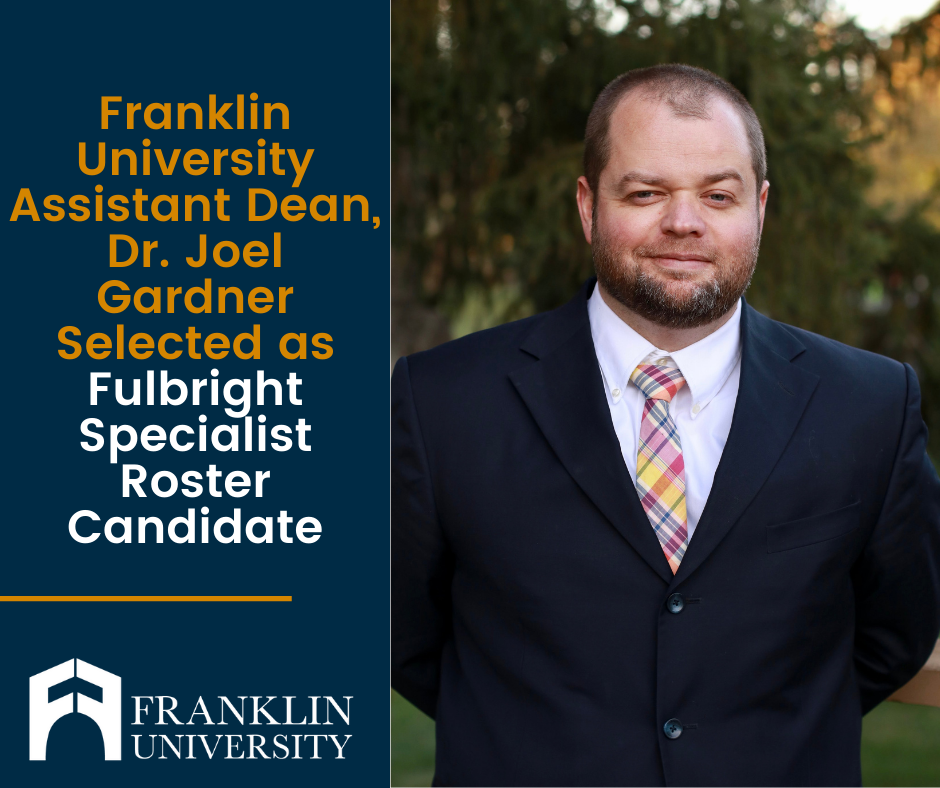 Columbus, OH (May 10, 2021)
Franklin University, one of the leading educators of working adults in central Ohio, is proud to announce that Dr. Joel Gardner, assistant dean of Instruction Design has been selected for the Fulbright Specialist Program Roster. The program, coordinated by the U.S. Department of State's Bureau of Educational and Cultural Affairs (ECA) and the Institute of International Education's Council for International Exchange of Scholars (CIES), provides grant opportunities to Fulbright Specialists.
Dr. Gardner adds to our distinguished list of Franklin Fulbright leaders, sharing this achievement with Dr. Jonathan McCombs and Dr. Kelly Renner, newly appointed Fulbright Specialists, and Dr. Christopher Washington, former Fulbright Specialist, and now serving as a representative.
Fulbright Specialists are consultants with expertise in their academic discipline, who collaborate on projects in diverse settings of higher education in a wide range of eligible disciplines and fields. The program promotes relationships between U.S. scholars and professionals and their counterparts at host institutions overseas.  The specialist program awards grants for short-term collaborative projects at institutions in over 140 countries.  Specialists may be requested to provide academic services, such as short-term lecturing, conducting seminars, teacher training, assessments and evaluations, special conferences or workshops, as well as collaborating on faculty development and curriculum or institutional planning.
Joel Gardner, Ph.D. is the assistant director of Instructional Design at Franklin University. During his tenure at Franklin University, Dr. Gardner has held a variety of positions including instructional design faculty member, program chair, department chair and executive director. As a Franklin educator for over 10 years, Dr. Gardner has received multiple awards for his teaching, instructional design, research and service.
Adding to his many accomplishments, Dr. Gardner shares "I am grateful for the opportunity to be selected for the Fulbright Specialist Program Roster. My professional mission is to teach and lead others to apply knowledge and principles for learning and success, and I look forward to the opportunity to collaborate with a host institution on their education and training goals. I express my deep gratitude to Franklin University leadership for supporting me in pursuing this opportunity!" 

As a scholar, Dr. Gardner has published several peer-reviewed articles on instructional strategies, educational technology, human performance technology, and instructional design leadership in a variety of educational settings. He claims raising his 5 children with his beautiful wife Katie as his greatest source of happiness and fulfillment.
Dr. Gardner holds a Ph.D. in Instructional Technology and Learning Sciences from Utah State University. He has higher education degrees from three institutions and is also a Certified Performance technologist. Dr. Gardner takes a practical, research-based approach to his management, teaching and instructional design, with the intent to focus his decisions on how to improve student learning experiences and the overall academic quality at the university.
About Franklin University
Accredited, nonprofit and dedicated to educating adults since 1902, Franklin provides on-site course options at our Main Campus in downtown Columbus, Ohio, and is an innovator in providing personalized online education. The University offers applied in-demand undergraduate, master's and doctorate programs that enable adult learners to achieve their educational and professional goals. The University also offers several academic programs internationally, including its top-ranked MBA, through agreements with partner institutions.
Franklin University is accredited by The Higher Learning Commission and holds specialized accreditations for specific academic programs through the International Accreditation Council for Business Education, the Commission on Collegiate Nursing Education and the Commission on Accreditation of Health Informatics and Information Management Education. Franklin is only one of three schools in Ohio designated as a National Center of Academic Excellence in Cyber Defense Education (CAE-CDE) by the National Security Agency and the Department of Homeland Security.