Dr. Yi Yang Appointed as ICDE Ambassador for OER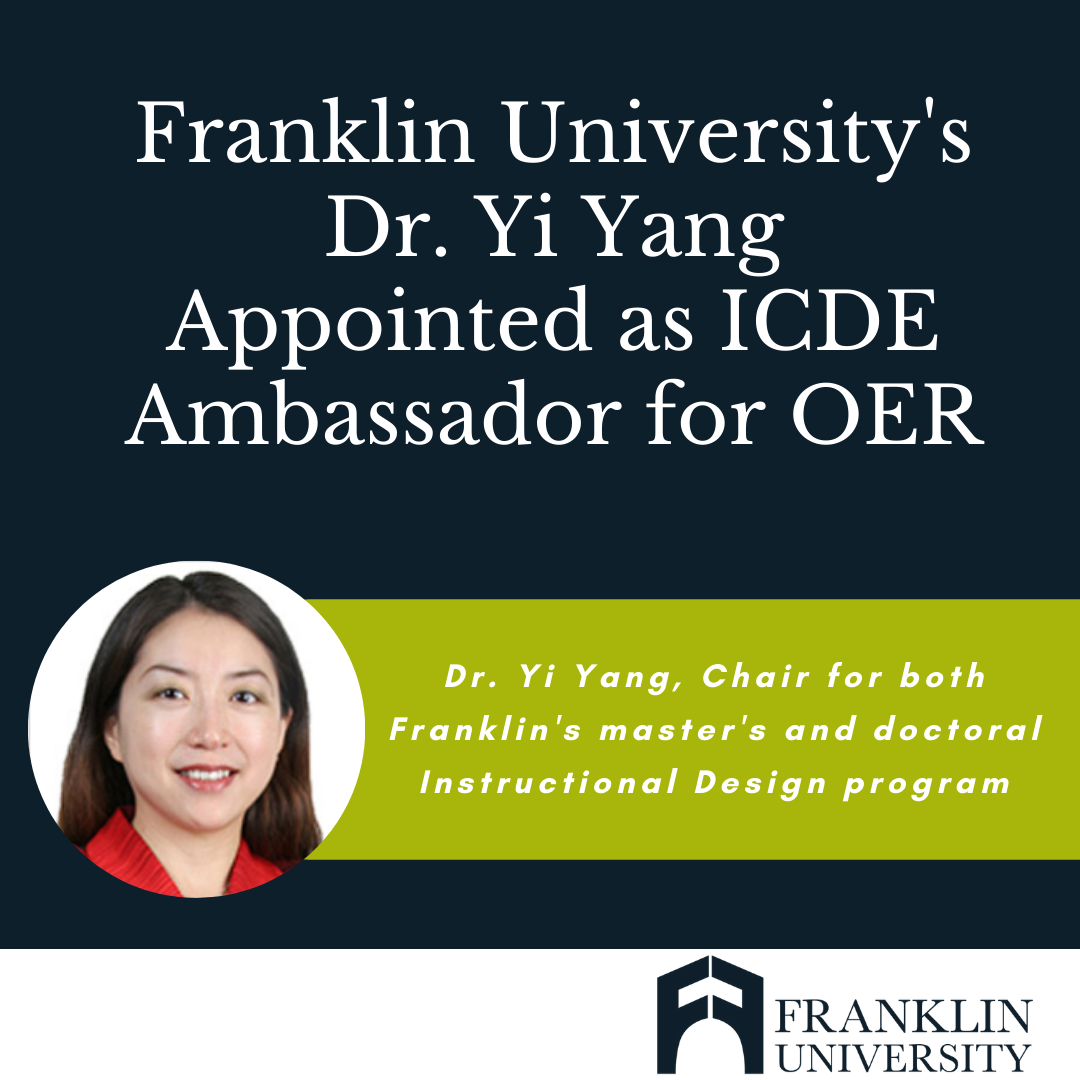 Columbus, OH (April 5, 2021)
Franklin University, one of the leading educators of working adults in central Ohio, is proud to announce the appointment of Dr. Yi Yang, chair for both Franklin's master's and doctoral Instructional Design program, as ICDE (International Council for Open and Distance Education) Ambassador for OER (Open Educational Resources). Now actively serving as a two-year ambassador, Dr. Yang adds to our distinguished Franklin leaders, alongside Dr. Christopher Washington serving this international organization.
ICDE is a membership organization working towards the achievement of online education for all; offering a worldwide network of online educators, policymakers, and innovators that collaborate with each other on projects and initiatives, sharing best practices and industry knowledge.
In her new role as an ambassador representing the United States, within the Advocacy Committee for OER, Dr. Yang will bring her instructional systems and workforce development expertise cultivated through 15 years at Franklin University. As an accomplished educator, this new appointment adds to her array of professional service committees she actively serves; along with her published research journals centered around instructional design and online learning communities.
Congratulations on your newest accolade, Dr. Yang!
Dr. Yang's faculty profile: https://bit.ly/39y6Sz7
Learn more about the ICDE OER Advocacy Committee: https://bit.ly/3cE1oF0
About Franklin University
Accredited, nonprofit and dedicated to educating adults since 1902, Franklin provides on-site course options at our Main Campus in downtown Columbus, Ohio, and is an innovator in providing personalized online education. The University offers applied in-demand undergraduate, master's and doctorate programs that enable adult learners to achieve their educational and professional goals. The University also offers several academic programs internationally, including its top-ranked MBA, through agreements with partner institutions.
Franklin University is accredited by The Higher Learning Commission and holds specialized accreditations for specific academic programs through the International Accreditation Council for Business Education, the Commission on Collegiate Nursing Education and the Commission on Accreditation of Health Informatics and Information Management Education. Franklin is only one of three schools in Ohio designated as a National Center of Academic Excellence in Cyber Defense Education (CAE-CDE) by the National Security Agency and the Department of Homeland Security.