Franklin Hosts 168th Commencement Ceremony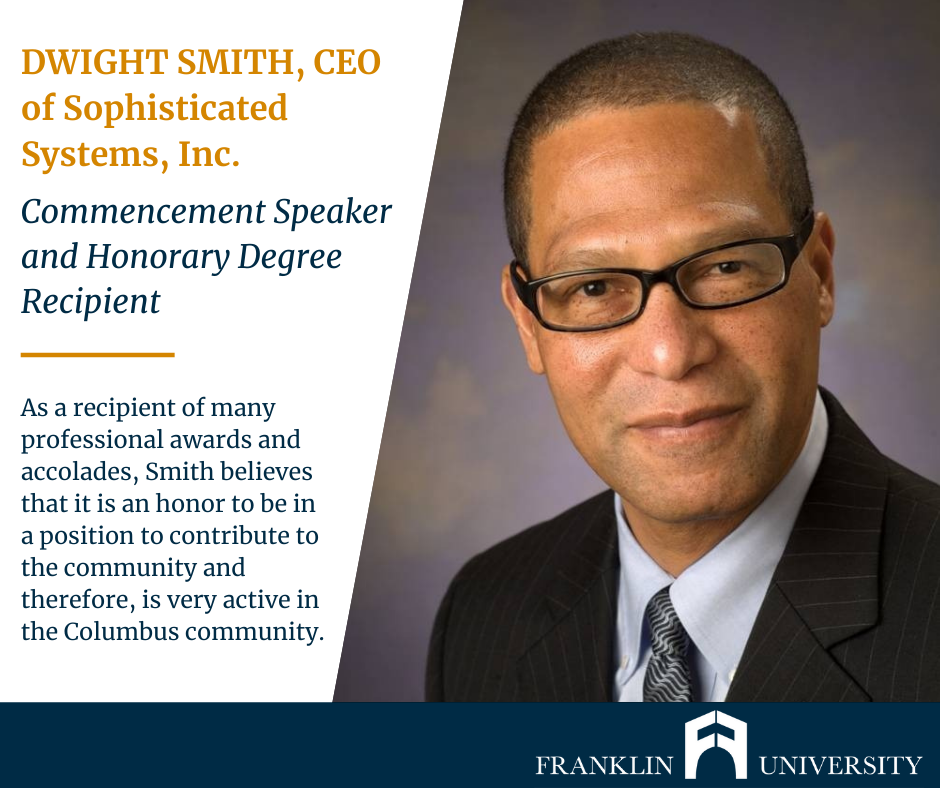 Columbus, OH (September 7, 2021)
Franklin University, one of the leading educators of working adults, will hold its 168th Commencement Ceremony of Friday, Sept. 10, 2021 at 7 p.m. (EDT), during which the University's newest degree candidates will receive their diplomas. This commencement ceremony will take place at The Greater Columbus Convention Center, Battelle Grand Hall, 400 N. High St. in downtown Columbus.
Commencement has always been a time of celebration. For Franklin University, the event marks a tremendous sense of achievement for students who completed their degrees often while juggling work, families and more. The University is proud to honor the achievements of this newest class of graduates and invites the community to join in the celebration.
Commencement Speakers
Receiving an honorary degree and speaking at Franklin's 168th Commencement is Dwight Smith. With over 40 years of experience in the IT industry, Dwight is the founder, president and CEO of Sophisticated Systems, Inc (SSI). Located in Columbus, Ohio, SSI provides businesses with a comprehensive set of information technology solutions to drive results, from project staffing and assessments to fully outsourced managed services. 
SSI was nationally recognized by Inc. magazine as one of the country's 500 fastest-growing companies. Regionally, SSI was the winner of the 2001 Corporate Caring Award and named an award finalist in 2015 and 2017. Winner of the Top Cat Tech Innovation Award for technology leadership, SSI was also included among the fastest-growing central Ohio businesses seven times by Columbus Fast 50. 
The recipient of many professional awards and accolades, Smith believes that it is an honor to be in a position to contribute to the community and therefore, is very active in the Columbus community. In addition to serving on the board of directors for numerous charitable organizations, he established a nonprofit foundation, TBTG (Thanks Be To God) to provide assistance to children locally and around the world. Two additional donor-advised funds were also established, The Rubye Irene Smith Youth Initiative that supports efforts in his hometown of Springfield, Ohio, and My Special Word. Dwight is also an active angel investor in a number of high potential startups. 
Dwight earned his bachelor's degree and MBA at The Ohio State University. He has served as an adjunct professor in the MBA program at Franklin University and has been a guest lecturer at The Fisher College of Business at Ohio State. Dwight resides in Dublin, Ohio, with his wife Renee.
Also addressing the graduates will be Anthony Principe. Anthony is a leading licensed massage therapist in the Cleveland area. Anthony is graduating from Franklin this Friday with his M.S. in Health Informatics. Anthony's interest in informatics began when he was working as part of the Dining with Diabetes program at The Ohio State University while pursuing his bachelor's degree. That experience drew him toward an informatics-focused master's degree.  
Anthony cares deeply about the health and well-being of others. He hopes to apply his knowledge and skills in health informatics and strategic management to help streamline inefficiencies in the healthcare field, enabling the industry to treat patients more successfully.  
Anthony would like to thank his wife Heather, and their daughters, Autumn and Mia, for their on-going support.
About Franklin University
Accredited, nonprofit, and dedicated to educating adults since 1902, Franklin provides onsite course options at our Main Campus in downtown Columbus, Ohio, and is an innovator in providing personalized online education. The University offers applied in-demand undergraduate, masters, and doctorate programs that enable adult learners to achieve their educational and professional goals. Through agreements with partner institutions, the University also offers international academic programs, including its top-ranked MBA.
Franklin University is accredited by the Higher Learning Commission and holds specialized accreditations for specific academic programs through the International Accreditation Council for Business Education, the Commission on Collegiate Nursing Education, the Council for the Accreditation of Educator Preparation, and the Commission on Accreditation of Health Informatics and Information Management Education. The National Security Agency and the Department of Homeland Security have designated Franklin University as a National Center of Academic Excellence in Cyber Defense Education (CAE-CDE).