Franklin University's Academic Centers and Institute Host A Celebration of Excellence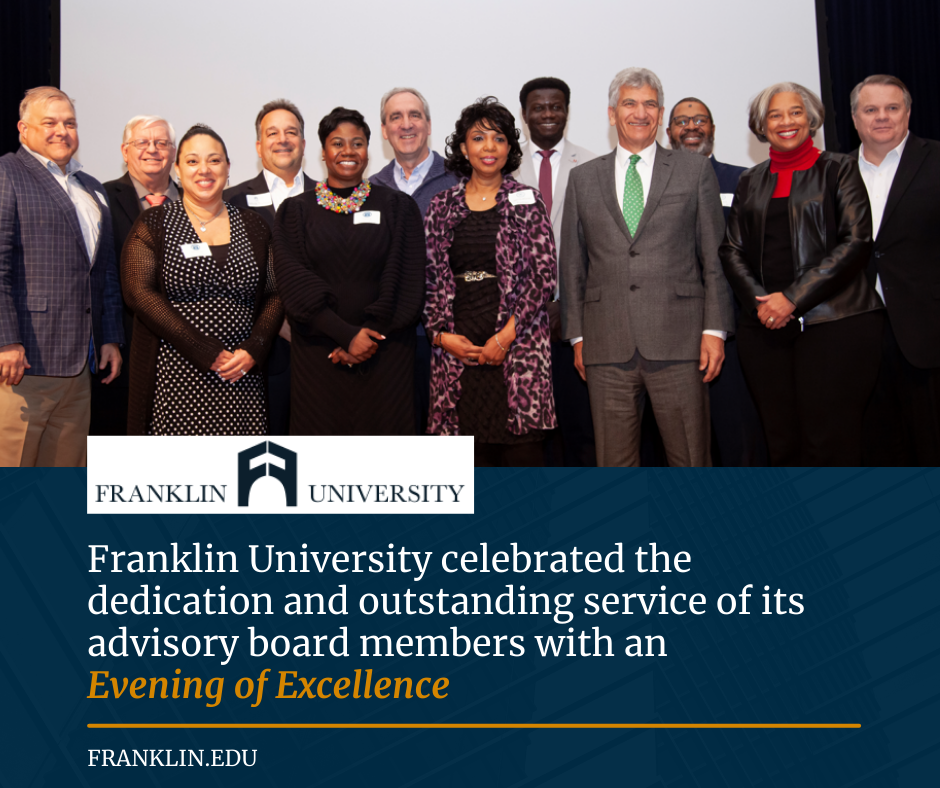 Columbus, OH (December 17, 2021)
Franklin University, one of the leading educators of working adults, celebrated the dedication and outstanding service of its academic Center advisory board members with an Evening of Excellence last Thursday, Dec. 9, 2021. 

The contribution of  the University's academic centers and institute advisory boards bridges the world of academia and practice while providing significant knowledge and experience, fulfilling Franklin's mission to serve students with excellence. The following award recipients were honored for their expertise and guidance:

The Institute recognized  Miracle Reynolds in her 22nd year of education with Columbus City Schools. In 2019 she accepted the position as the principal of Southwood Elementary. Miracle  believes that all students can learn when they are given a positive learning environment, a committed educational team, and a supportive community.

The Leadership Center honored Maureen Metcalf, owner of Innovative Leadership Institute, for her contributions to the Leadership Center advisory board, in addition to the Mason Leadership Symposium. Maureen's commitment to leadership on all levels has made her an intricate part of the board.

Sales Education Advisory Council member Mick Slyman, AVP of Strategic Account Management at Nationwide, for his continued insight on sales education and his advocacy for those who are considering a career in professional selling.

The Center for Public Safety and Cybersecurity Education recognized long-standing advisory board member, Allen Perk, president and CEO of XLN Systems. Allen has made several contributions during his time as a board member including: facilitating workshops, keynoting events, participating in panel discussions, attending CPSCE events, and offering practical insights on industry trends during advisory board meetings.

The Global Center for Healthcare Education honored Jacqueline Bastian, director of Care Management for OhioHealth's Grant Hospital. Jacqueline has served on the advisory board since 2020; during that time, she has made significant contributions to Franklin University. Specifically, she wrote a letter of support on behalf of OhioHealth which ultimately helped the University receive a $540,000 Choose Ohio First grant to provide scholarships to several STEM, nursing, and healthcare students. 
Congratulations Franklin award recipients, and thank you to all our advisory board members for diligently serving Franklin University, while providing relevant education to the broadest possible community of learners.
To learn more about each academic center and institute and its enriching impact -
The Institute: franklin.edu/institute 
Leadership Center: franklin.edu/leadership
Distinguished Sales Lecture: franklin.edu/leadership/sales-speaker-series
Center for Public Safety & Cybersecurity Education: franklin.edu/center-public-safety-cybersecurity-education 
Global Center for Healthcare Education: franklin.edu/healthcare-education
About Franklin University
Accredited, nonprofit, and dedicated to educating adults since 1902, Franklin provides onsite course options at our Main Campus in downtown Columbus, Ohio, and is an innovator in providing personalized online education. The University offers applied in-demand undergraduate, masters, and doctorate programs that enable adult learners to achieve their educational and professional goals. Through agreements with partner institutions, the University also offers international academic programs, including its top-ranked MBA.
Franklin University is accredited by the Higher Learning Commission and holds specialized accreditations for specific academic programs through the International Accreditation Council for Business Education, the Commission on Collegiate Nursing Education, the Council for the Accreditation of Educator Preparation, and the Commission on Accreditation of Health Informatics and Information Management Education. The National Security Agency and the Department of Homeland Security have designated Franklin University as a National Center of Academic Excellence in Cyber Defense Education (CAE-CDE).