Franklin's Global Center for Healthcare Education will Host a Virtual Community Conversation on the COVID-19 Vaccine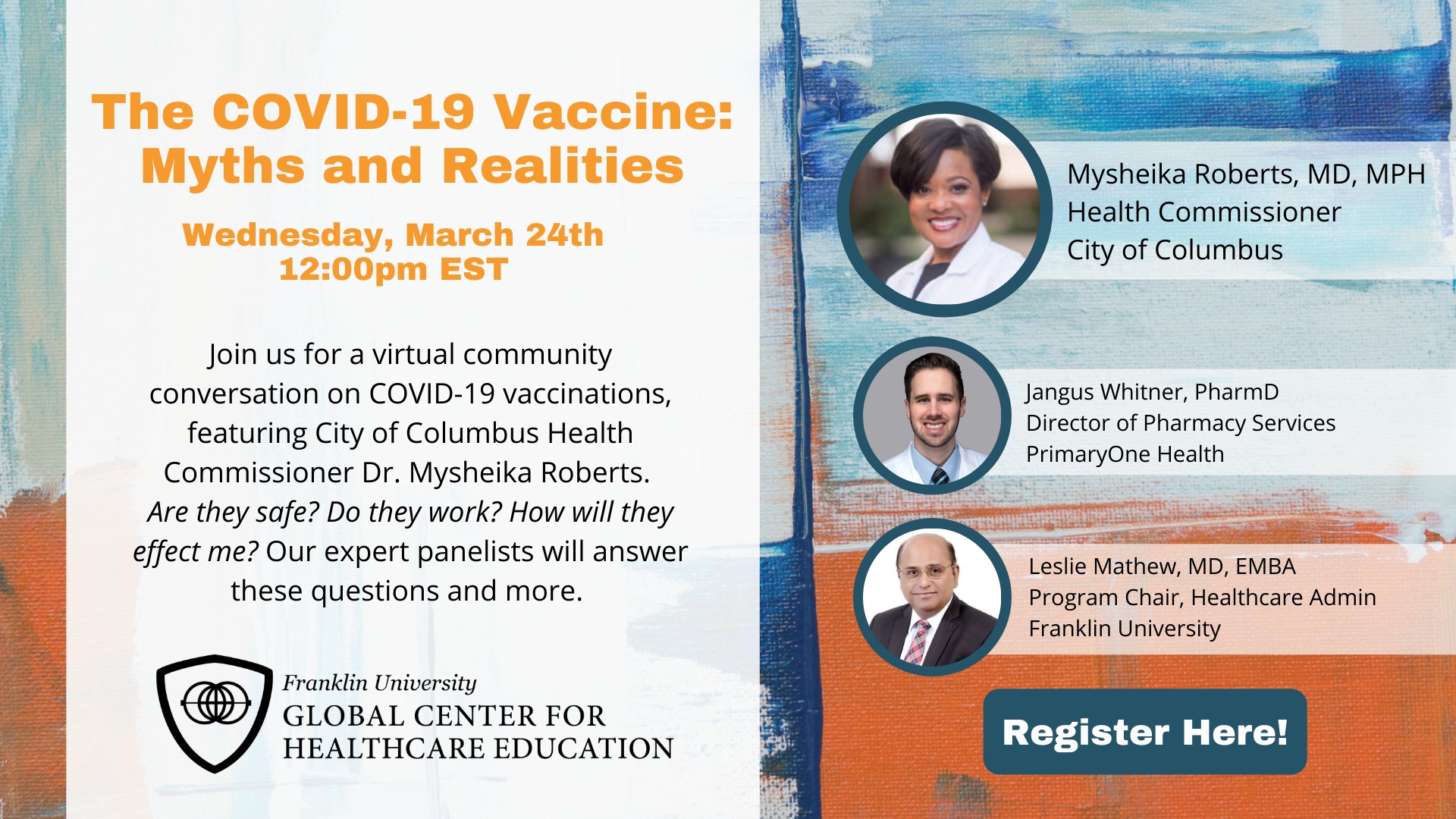 Columbus, OH (March 10, 2021)
Franklin University, 0ne of the leading educators of working adults in central Ohio, is pleased to announce a special Community Conversation on "The COVID-19 Vaccine: Myths and Realities" on Wednesday, March 24 at noon (EST).
Brought to you by the University's Global Center for Healthcare Education, the special Community Conversation brings together the Center's excellence in healthcare education, research and practice, and combines it with a panel of experts. These panelists will provide the community with resources to stimulate discussion, improve understanding the role COVID-19 vaccines have in preventing disease, and promote quality and improving public health.
Lending their guidance to this virtual community conversation, expert panelists will include:
Mysheika Roberts, MD, MPH, health commissioner for the City of Columbus.
Jangus Whitner, PharmD, director of Pharmacy Services at PrimaryOne Health.
Leslie Mathew, MD, EMBA, program chair of the Franklin University Healthcare Administration program.
With a plethora of information and questions inciting uncertainty and confusion surrounding COVID-19 and the vaccination options, Franklin and leading healthcare specialists will offer relevant knowledge and realities of the COVID-19 vaccine.
By hosting Community Conversations, we help sort out the facts from the myths so attendees have the ability to make informed decisions, as we continue to navigate this pandemic together.
Click here to participate in the COVID-19 conversation on March 24: https://franklin.zoom.us/meeting/register/tJwsduiurj8sHt2-ZNr8HngNWh2x7T8Pfmvm
To learn more about Franklin's Global Center for Healthcare Education and the high-quality healthcare and nursing degree programs offered: https://www.franklin.edu/healthcare-education
About Franklin University
Accredited, nonprofit and dedicated to educating adults since 1902, Franklin provides on-site course options at our Main Campus in downtown Columbus, Ohio, and is an innovator in providing personalized online education. The University offers applied in-demand undergraduate, master's and doctorate programs that enable adult learners to achieve their educational and professional goals. The University also offers several academic programs internationally, including its top-ranked MBA, through agreements with partner institutions.
Franklin University is accredited by The Higher Learning Commission and holds specialized accreditations for specific academic programs through the International Accreditation Council for Business Education, the Commission on Collegiate Nursing Education and the Commission on Accreditation of Health Informatics and Information Management Education. Franklin is only one of three schools in Ohio designated as a National Center of Academic Excellence in Cyber Defense Education (CAE-CDE) by the National Security Agency and the Department of Homeland Security.