Franklin University Announces Academic Practice Partnership with OhioHealth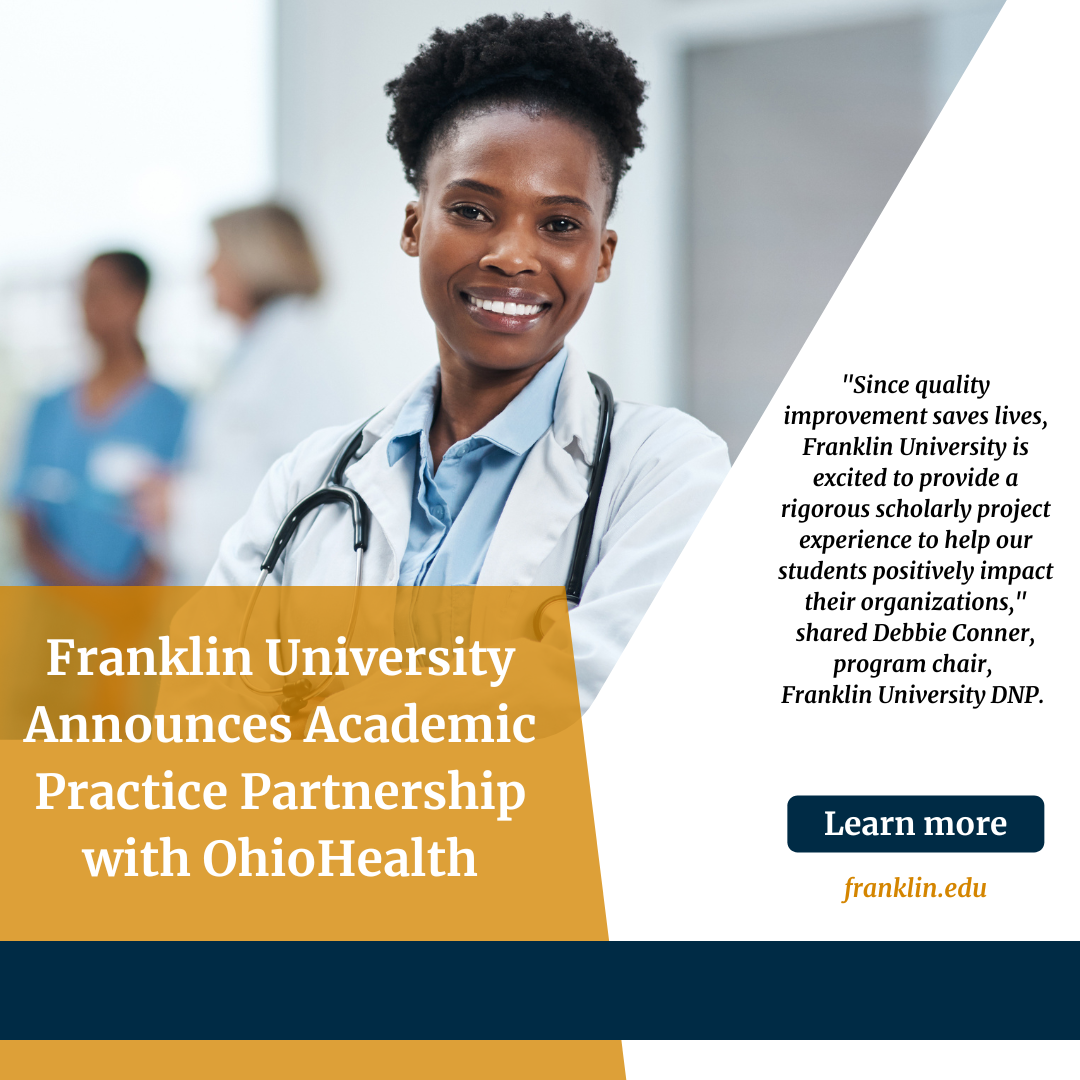 Columbus, OH (June 17, 2022)
Franklin University, a leader in educating working adults, is pleased to announce its new academic practice partnership with OhioHealth. Formed in continuance of the University's theory-to-practice model, the integration of the OhioHealth Change Management Model into the Doctor of Nursing Practice (DNP) program marks a deviation from the industry-wide theory-based curriculum to a more practical model approach for managing change. 

The integration of the OhioHealth Change Management Model into the DNP program provides leadership-driven registered nurses who hold an MSN or BSN access to an innovative, real-world approach to prepare to transform organizations, systems, and healthcare through evidence-based interventions. A five-goal, three-phase approach to managing organizational change, the innovative OhioHealth Change Management Model focuses on the emotional and psychological impacts of the process, tools, and techniques necessary to address the people side of change rather than focusing on logistics, resources, and budget historically addressed during change. 

"In this ever-changing healthcare landscape, change is inevitable, yet DNP scholarly projects typically require students to include vague change theories that cannot be easily applied or measured," shared Debbie Conner, program chair, Franklin University DNP. "The OhioHealth Change Management Model fits perfectly with quality improvement frameworks and evidence-based interventions by providing students and organizations with a model to effect positive systems-level change that can be sustained after the project is completed. Since quality improvement saves lives, Franklin University is excited to provide a rigorous scholarly project experience to help our students positively impact their organizations."

The OhioHealth Change Management Model is based on the premise that there is a rhythm to the planning and execution of change management. When the pulse view is used as an overlay on the traditional lifecycle, it serves as a roadmap to the types of change management tasks and tactics that can be executed at any given point in the project. This framework supports and encourages collaboration between project management and change management disciplines. 

"OhioHealth is excited to partner with Franklin University to bring our change management expertise to future healthcare leaders," said George Armstrong, senior advisor of Change Management at OhioHealth. "Our methodology will help drive adoption and sustainability for each participant as they complete their doctoral work. This curriculum will enable students to recognize, categorize and drive change efforts that will enable them to achieve their project target and position them for success in the ever-changing world of healthcare."
About OhioHealth
Based in Columbus, Ohio, OhioHealth is a nationally recognized, not-for-profit, charitable, healthcare outreach of the United Methodist Church.  

Serving its communities since 1891, it is a family of 35,000 associates, physicians and volunteers, and a network of 12 hospitals, 200+ ambulatory sites, hospice, home-health, medical equipment and other health services spanning a 47-county area. It has been recognized by FORTUNE as one of the "100 Best Companies to Work For" 15 times since 2007. 
OhioHealth hospitals include OhioHealth Riverside Methodist Hospital, OhioHealth Grant Medical Center, OhioHealth Doctors Hospital, OhioHealth Grady Memorial Hospital, OhioHealth Dublin Methodist Hospital, OhioHealth Hardin Memorial Hospital, OhioHealth Marion General Hospital, OhioHealth O'Bleness Hospital, OhioHealth Mansfield Hospital, OhioHealth Shelby Hospital, OhioHealth Grove City Methodist Hospital and OhioHealth Berger Hospital. For more information, please visit the OhioHealth website at www.ohiohealth.com.  
About Franklin University
Accredited, nonprofit, and dedicated to educating adults since 1902, Franklin provides onsite course options at our Main Campus in downtown Columbus, Ohio, and is an innovator in providing personalized online education. The University offers applied in-demand undergraduate, masters, and doctorate programs that enable adult learners to achieve their educational and professional goals. Through agreements with partner institutions, the University also offers international academic programs, including its top-ranked MBA.
Franklin University is accredited by the Higher Learning Commission and holds specialized accreditations for specific academic programs through the International Accreditation Council for Business Education, the Commission on Collegiate Nursing Education, the Council for the Accreditation of Educator Preparation, and the Commission on Accreditation of Health Informatics and Information Management Education. The National Security Agency and the Department of Homeland Security have designated Franklin University as a National Center of Academic Excellence in Cyber Defense Education (CAE-CDE).