Franklin University Celebrated its Alumnus of the Year Award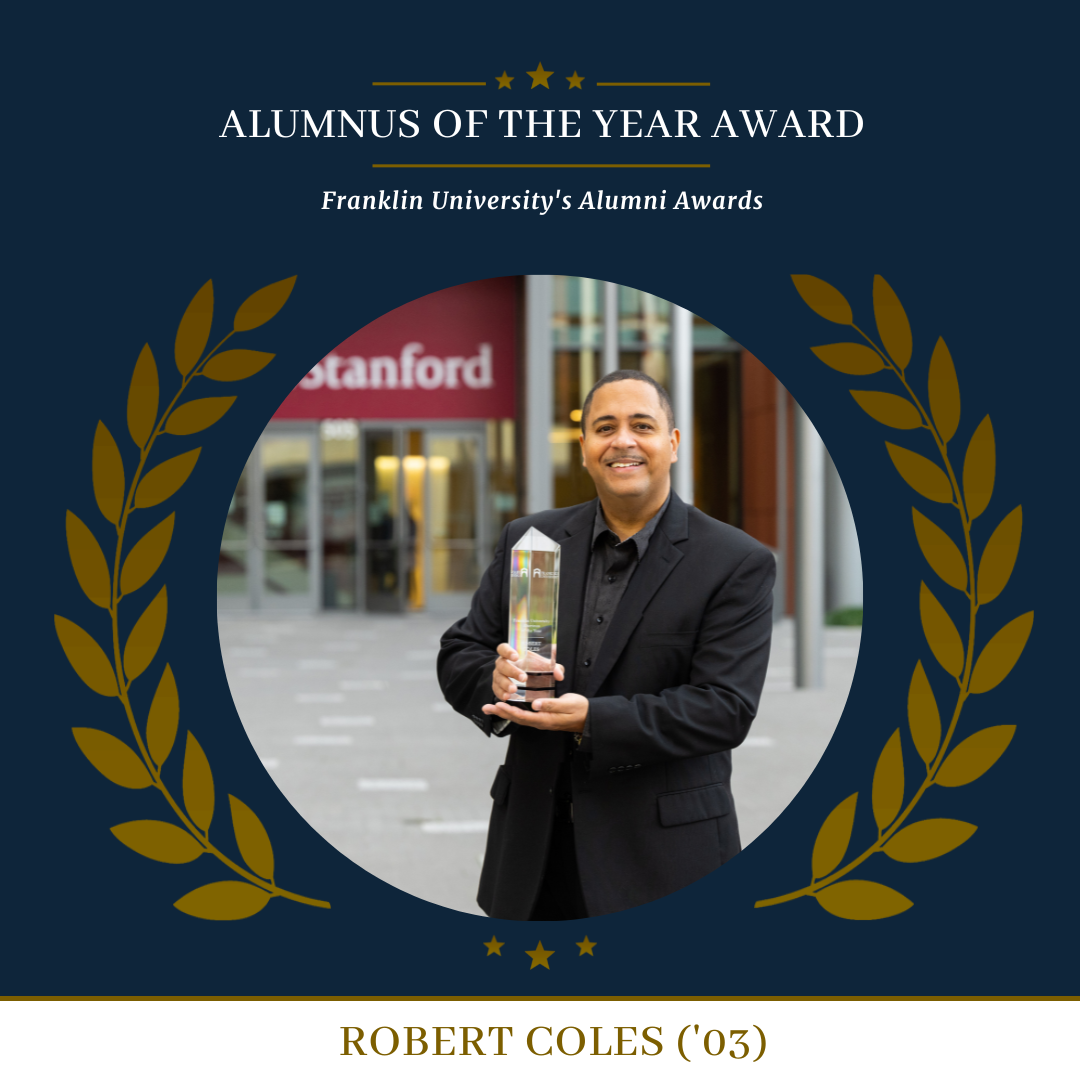 Columbus, OH (January 17, 2023)
Franklin University, one of the leading educators of working adults in central Ohio, celebrated its 172nd Commencement on Sunday, Jan. 15, 2023. Along with honoring the graduates, the University recognized Robert Coles as the 2023 Alumnus of the Year Award. Now in its second year, the Alumnus of the Year award is awarded to an outstanding alumnus who has given their time, talent or treasure to the University in an elevated way; and who makes an impact on current students.
Robert Coles is an award-winning creative professional with over 20 years of design and marketing experience. Currently, Robert serves as senior director of creative and digital services at Stanford University. In his role, he oversees Residential & Dining Enterprises brand management, an area consisting of a $3 billion asset portfolio. 
Robert sits on the Provost's IDEAL Staff Advisory Committee, which seeks to enhance staff experience related to diversity, equity, inclusion and belonging (DEIB). He also is a co-founder of the Stanford Black Male Wellness Group, and strategic advisor to Stanford's Black Coalition. In 2022, he served as a mentor and visiting presenter during Stanford's Medical Humanities Summer Scholars Program. 
Robert is actively involved at both his alma maters. Serving as a benefactor and co-founder of the Franklin University Diversity and Inclusion Scholarship. A scholarship awarded to students from underrepresented populations, those with disabilities, and students from the LGBTQIA+ community. Recently, he was given the honor of having a scholarship awarded in his name by CCAD. The Coles Diversity Impact Endowed Scholarship Fund. He also serves as a member of the Franklin University Alumni Advisory Council.
Robert received an M.S. in Marketing & Communication from Franklin and a BFA from Columbus College of Art & Design. He has a certification in Social Media Strategy from MIT's Sloan School of Executive Management, and is a graduate of the Leadership@Stanford Program.
Robert's previous roles include director of creative services and brand management for Franklin University and director of creative services and enrollment marketing at Columbus College of Art & Design. He began his career at Victoria's Secret and has since built his own company, Brand Creative Marketing, LLC, serving such clients as the Cleveland Cavaliers and Columbus Blue Jackets.
Additionally, Robert is a published children's book illustrator with five BIPOC books to his credit, each featuring a person of color as the main protagonist.
About the Franklin University Alumni Awards
The Franklin University Alumni Awards were created to recognize the many achievements of Franklin University alumni, both professionally and personally. The awards, open to all alumni, distinguished accomplishments in three categories: professional excellence, social impact, and alumnus of the year. 
One of the three awards will be announced at each of the University's Commencement ceremonies on a rotating basis. The Franklin University Alumni Advisory Council considers nominations and makes its recommendations to the University's president for approval.
About Franklin University
Accredited, nonprofit, and dedicated to educating adults since 1902, Franklin provides onsite course options at our Main Campus in downtown Columbus, Ohio, and is an innovator in providing personalized online education. The University offers applied in-demand undergraduate, masters, and doctorate programs that enable adult learners to achieve their educational and professional goals. Through agreements with partner institutions, the University also offers international academic programs, including its top-ranked MBA.
Franklin University is accredited by the Higher Learning Commission and holds specialized accreditations for specific academic programs through the International Accreditation Council for Business Education, the Commission on Collegiate Nursing Education, the Council for the Accreditation of Educator Preparation, and the Commission on Accreditation of Health Informatics and Information Management Education. The National Security Agency and the Department of Homeland Security have designated Franklin University as a National Center of Academic Excellence in Cyber Defense Education (CAE-CDE).