We're Sorry
There was an unexpected error with the form (your web browser was unable to retrieve some required data from our servers). This kind of error may occur if you have temporarily lost your internet connection. If you're able to verify that your internet connection is stable and the error persists, the Franklin University Help Desk is available to assist you at helpdesk@franklin.edu, 614.947.6682 (local), or 1.866.435.7006 (toll free).
Just a moment while we process your submission.
Options for Executive Education in Healthcare
Few would argue that healthcare delivery in this country (and even in other parts of the world) is highly complex.
The reasons for healthcare's complexity are many, including but not limited to:
Regulations
Safety factors
Ethical implications
Variable processes
Shifting hierarchies
Forbes magazine contributing editor Ron Smythe says most people think of the delivery of care as a linear process. But, he says, there's an important variable that makes healthcare anything but predictable:
"The difference is people; they introduce social factors into the processes and structures of healthcare delivery, along with emotional states and varying levels of competence and performance – all of which can have an incredibly unpredictable impact on results. This is compounded by inefficient information sharing, and decisions being made, at times, distant from the action."
The reality is that healthcare is neither linear, nor a process.
Healthcare is a people-caring-for-people enterprise, which requires delivering excellence both medically and financially.
Such an enterprise needs qualified medical professionals, of course, but it also needs healthcare visionaries and executive-level leaders who can deliver breakthrough innovations on the business side of things.
"Complexities center around the fact that there is a greater need for leaders who are dynamic and experts at operations – especially at solving problems," says Leslie King, Ph.D., program chair for Franklin University's Doctor of Healthcare Administration (DHA) and dean of the College of Health & Public Administration. "We need all types of educated, dynamic leaders, from CEOs to physician-leaders to nursing administrator."
With the introduction of the Affordable Care Act several years ago, Dr. King explains that there's been a shift in healthcare, which is driving healthcare systems and organizations to be more engaging and to operate at unprecedented levels.
He explains, "We've moved from a fee-for-service model in which practitioners were paid for as many people as they could see with no real accountability for healing, to revenue being tied directly to answering the question, 'Did you heal the patient?' Instead of waiting for sick people to come to healthcare, now healthcare is being asked to take healing and health to the community."
And, that, says Dr. King and others, is where healthcare leadership and executive education come in.
"From CEO to director to vice president, no healthcare system leader is an island and no one individual can do what needs to be done," he says. "We need to bring diverse, highly educated professionals together so we can maximize healthcare delivery, operations, safety and community health concerns as part of a team."
From outcomes to cost measurement to integrated delivery to value improvement, healthcare leaders must deliver creative solutions that drive not only profitability but positive change for patients, families and communities.
Never has there been a greater need for qualified, savvy leadership within the field of healthcare.
"The task of the leader," said former Secretary of State Henry Kissinger, "is to get people from where they are to where they have not been."
Leadership matters.
And if you want to have influence and impact in the healthcare arena, you must grow, develop and refine your leadership skills. How?
There are many leadership development options available to you. Here, we take a look at the top five.
Workshop Programs
One-day to one-week intensive leadership programs can help you discover your personal leadership style while also giving you an overview of leadership best practices.
PROS:

Can be quick and easy to attend
Exposes you to new theories or ideas
Can help expand your professional network

CONS:

Variable pricing structures may be cost prohibitive
Does not fill the skills gap
Does not achieve breakthrough results

Certification
Short-term (8- to 12-week) professional or executive leadership certificates are credentialed programs designed to provide a leadership framework as well as expand specific leadership competencies.
PROS:

Minimal time investment
Can usually be completed conveniently online
Exposes you to key leadership topics

CONS:

Can be an expensive return on investment
Lacks the substance and depth of longer programs
Does not teach research-to-real-world application skills

Advanced Degree
A professional Doctor of Healthcare Administration (DHA) or other advanced degree, such as a Ph.D., is a university-level, terminal degree that provides in-depth education and experience in order to strengthen leadership skills. PROS:

Is the highest possible degree you can earn
Challenges and grows you in your discipline
Provides career-transforming opportunities
Helps you demonstrate advanced knowledge and competencies
May increase your marketability and salary potential within healthcare administration

CONS:

Involves an extensive investment of time (3 or more years)
Has an average completion rate of 50 percent
Can lack post-graduate support communities

Organization Membership
Participating as an active member of a professional society or network, such as the American College of Healthcare Executives (ACHE), provides an opportunity for professional development and network growth. PROS:

Allows you to connect with peers at both local and national levels
Exposes you to best practices and other resources
May provide opportunities for additional certification or credentialing

CONS:

Can be expensive
Requires that you allocate time and effort
May not provide a good return on investment

Lecturing, Teaching & Speaking
This is an opportunity with multiple outlets for sharing what you know and learning from others.
PROS:

Allows you to challenge yourself professionally
Gives you an outlet for personal and professional growth
Provides the opportunity to research topics with a fresh perspective

CONS:

Is not formally recognized as education per se
Requires proficiency at public speaking
Can require a significant investment of time, money and travel
Which of these five executive education options is right for you is something only you can decide.
Dr. King, however, says that individuals who want to advance their career, move into upper leadership or transition from healthcare to healthcare education in a university or other organization will want to seriously consider earning a doctorate in healthcare administration.
"If you have a desire to go to the next level," he says, "and want to learn more about the healthcare system in a nation and have an interest in achieving and giving back, then an advanced degree such as an applied doctorate will help you refine and round out your leadership skills."
Interested in rounding out your leadership skills with Franklin's DHA?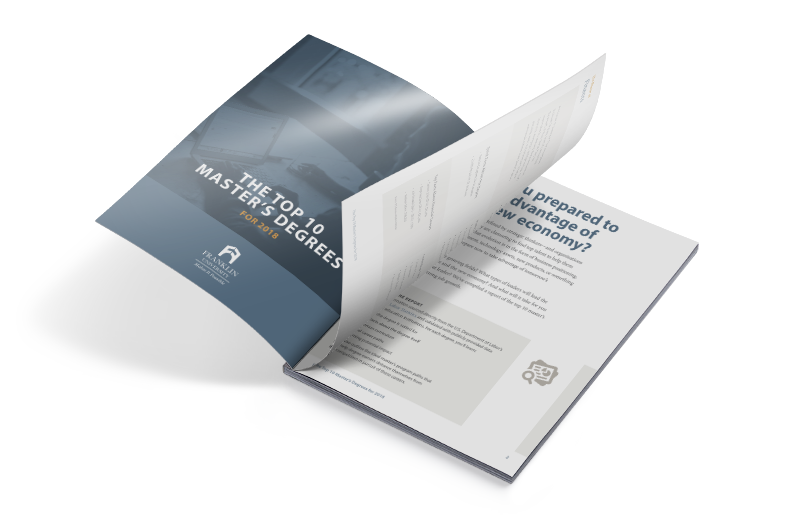 Download Now
Discover 10 of the most in-demand master's degrees based on salary and job growth.