We're Sorry
There was an unexpected error with the form (your web browser was unable to retrieve some required data from our servers). This kind of error may occur if you have temporarily lost your internet connection. If you're able to verify that your internet connection is stable and the error persists, the Franklin University Help Desk is available to assist you at helpdesk@franklin.edu, 614.947.6682 (local), or 1.866.435.7006 (toll free).
Just a moment while we process your submission.
What Jobs Can You Get with an Accounting Degree?
Accounting is a highly valued function across every industry and sector. Governments, nonprofits, public companies and private organizations all rely on accounting professionals to adhere to regulations, accurately report financial information, and make strategic business decisions.
The accounting field has career opportunities for individuals with all levels of education, from associate to master's degrees. Let's look at the top jobs for each of these credentials to give you a full picture of the career trajectory of an accounting professional.
Five Jobs You Can Get with an Associate Degree in Accounting

An associate degree in accounting gives you the basic skills you need to perform clerical support roles in the accounting field. Earning an associate degree is a good way to gain foundational knowledge while translating it quickly into a stable career. 
An associate degree provides a foundational understanding of:
Industry-standard technologies, such as accounting and payroll software.
Financial, managerial and tax accounting functions.
The theory and conceptual framework of Generally Accepted Accounting Principles.
An associate degree also incorporates general education requirements in areas such as math, English composition and humanities.
 
Let's look at five of the most popular jobs for professionals with an associate degree in accounting, as well as their responsibilities and median advertised salaries. All salary data is provided by EMSI, a leading labor market analytics firm that aggregates data from major job posting websites.
Accounting Clerk | $37.5K: Accounting clerks are responsible for clerical tasks that support the accounting function of an organization. Typical duties include filing financial records, reconciling bank statements, and updating and maintaining accounting databases.
Accounts Payable Clerk | $40.6K: Accounts payable clerks make sure their organization pays invoices and bills on time, as well as monitor spending. These professionals' day-to-day jobs include verifying, classifying and recording accounts payable data.
Accounts Receivable Clerk | $40.6K: Accounts receivable clerks focus on the other end of the payments spectrum, which includes receiving payments from clients or customers. Their primary duties include preparing, posting, verifying and recording all payments to ensure the general ledger is accurate.
Bookkeeper | $43.6K: Bookkeepers, who often work for smaller companies, have a broad-base of responsibilities. They oversee a company's overall financial data and compliance by maintaining accurate books on both accounts payable and receivable, payroll and other daily financial entries and reconciliations.
Payroll Specialist | $47.7K: Payroll specialists handle every aspect of the payment process, from tracking employees' time through issuing paychecks. They must also keep track of hour rates, wages, compensation benefit rates, and new hire information to maintain accuracy of payroll as part of the corporate budget.
If you want to move beyond entry-level roles, a bachelor's degree is essential. In fact, it's a minimum requirement to earn the title of accountant. Luckily, transfer-friendly universities such as Franklin University will allow you to transfer your associate degree credits into their bachelor's program. Franklin allows you to transfer up to 76% of the required credits to earn your bachelor's degree in accounting.
Five Jobs You Can Get with a Bachelor's Degree in Accounting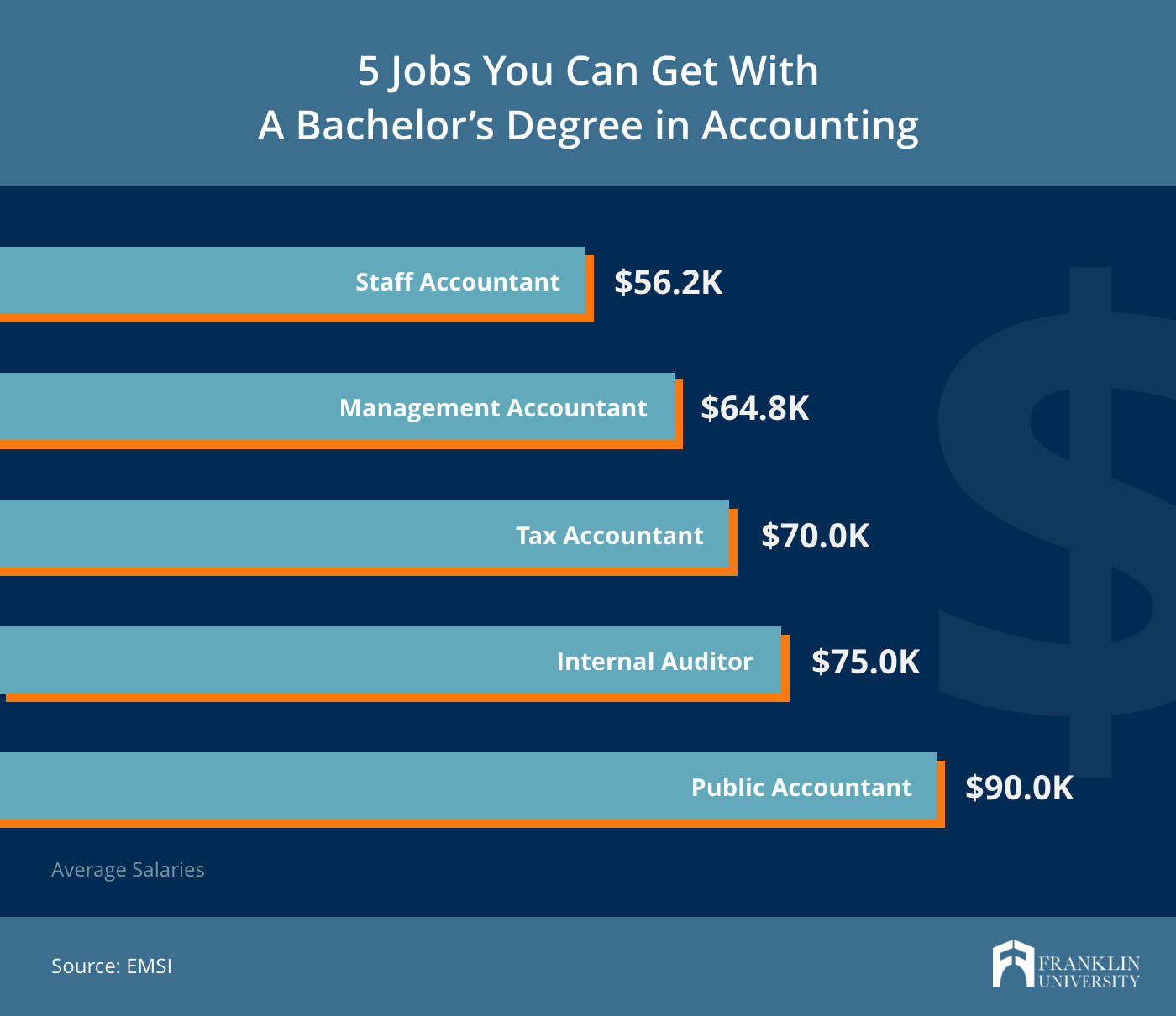 A bachelor's degree in accounting opens the door to an entirely different set of careers. Bachelor's degrees build on the accounting basics to make you a well-rounded accountant with broad technical and soft skills.
A bachelor's degree in accounting builds on foundational accounting skills to give accountants:
Data analysis skills that allow accountants to translate large data sets into actionable business insights.
Collaboration and teamwork skills that will help them function at their highest level within a larger accounting team.
Critical thinking and problem-solving abilities that prepare accountants to answer open-ended and strategic questions.
Let's look at five of the most popular jobs for graduates of a bachelor's degree in accounting program.
Staff Accountant | $56.2K: Staff accountants are responsible for maintaining financial records for a business or clients. They have a broad base of responsibilities, including maintaining the general ledger, reviewing financial statements and preparing financial reports.
Management Accountant | $64.8K: Management accountants need to have a strong business acumen, as they are responsible for preparing and analyzing financial data to inform business decisions. They also support budgeting and funding initiatives, as well as investment decisions.
Tax Accountant | $70.0K: Tax accountants provide clients with financial and tax advice. These professionals help individuals and businesses follow laws and regulations while preparing tax returns and, if necessary, preparing clients for audit.
Internal Auditor | $75.0K: Internal auditors provide an objective perspective and guidance on financial accuracy, internal controls and regulatory compliance. Their primary responsibilities include examining and improving a company's operating practices, as well as its financial and risk management procedures.
Public Accountant | $90.0K: Public accountants are accounting professionals who have earned their CPA license. A CPA license is earned through a combination of education, professional experience and examination, and standards for licensure are set at the state level. A CPA license gives you a leg up because you are able to perform duties a regular accountant can't—such as perform audits for publicly traded companies and officially represent a client in front of the IRS. 
Five Jobs You Can Get with a Master's Degree in Accounting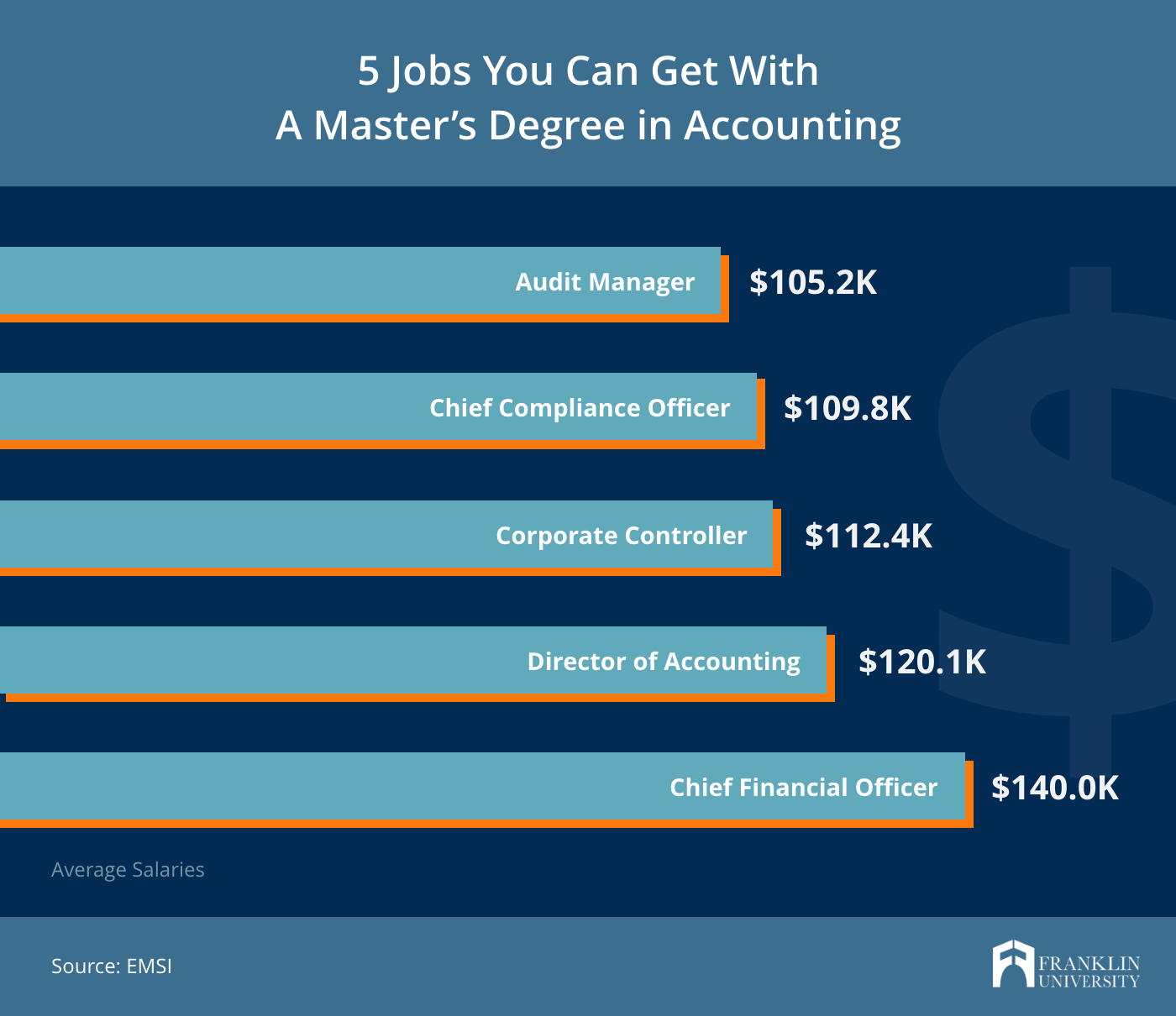 A master's degree in accounting is designed to help accountants develop deep expertise in the accounting function, while also preparing them for specialization and advancement. For example, Franklin University offers master's degree students the opportunity to choose a focus in taxation or financial operations.
A master's degree in accounting helps accounting professionals develop expertise in:
Financial control systems that allow businesses to mitigate risk, practice strategic spending and improve financial performance.
Leveraging technology to create more efficient and accurate accounting procedures.
Leadership and team management that will prepare accountants to move into upper-level management and executive positions.
Let's look at five of the most popular jobs for professionals with a master's degree in accounting.
Audit Manager | $105.2K: The responsibilities of audit managers include overseeing the audit process, making recommendations on policies and procedures, and ensuring an organization fulfills governmental compliance obligations.
Chief Compliance Officer (CCO) | $109.8K: The CCO is responsible for developing, implementing and evaluating the processes by which a company complies with all applicable laws and regulations. Their role is both strategic and tactical—building an ingrained culture of compliance while also putting the proper procedures in place to mitigate risk.
Corporate Controller | $112.4K: Corporate controllers are responsible for supervising all of the accounting and financial functions for their organization. As a leader, they establish and implement financial policies, perform risk assessments, and prepare budgets and forecasts that align with the strategic goals of the company. 
Director of Accounting | $120.1K: These professionals oversee the accounting policies and procedures within their organization. They are responsible for managing the year-end close process, ensuring successful completion of tax filings, and maintaining budgets and authorizing expenditures.
Chief Financial Officer (CFO) | $140.0K: The CFO is the top executive responsible for managing the financial activities of a company. This role is highly strategic in its nature, analyzing a company's financial strengths and weaknesses to improve financial performance and a company's competitive position in the marketplace.
 
Five Jobs for Professionals with an Accounting Degree That Don't Have "Accountant" In The Title
Earning an accounting degree doesn't mean you have to be an accountant your entire career. You can leverage the knowledge and skills you gained in an accounting program to build a long-lasting career in related occupations.
Financial Analyst | $72.6K: Financial analysts perform financial planning, analysis and forecasting for companies. They look at revenues and expenditures to establish cost structures, which allows them to project future performance and determine capital budgets.
Financial Consultant | $79.6K: Financial consultants create financial plans for individuals or organizations. Their role will vary client by client, but often includes creating financial strategies, monitoring financial performance, forecasting growth, and giving clients options for improving their financial outlook.
Project Manager | $89.0K: Project managers work within organizations or client services agencies. These professionals manage timelines, project budgets and team priorities to ensure projects are completed efficiently. This is a natural path for accountants that allows them to work in creative or technology-driven fields.
Fraud Manager | $95.1K: Fraud managers develop and implement action plans for detecting fraudulent activities in an organization. They lead a team of fraud investigators to analyze cases of financial crime such as money laundering, forgeries and other legal claims.
Data Modeler | $114.6K: Data modelers are responsible for developing the tools that allow for manipulation of large amounts of data. For tech-savvy accountants, this role allows them to dive deep into mathematical models and technology platforms to help businesses derive insights from multiple sources of information.
 
Find the Accounting Degree That Suits Your Needs
Wherever you are in your career, Franklin University can help you start or advance your career in accounting. With accounting degrees at the associate, bachelor's and master's degree levels, Franklin's 100% online curriculum makes accounting education accessible to working adults. Franklin's transfer-friendly policies can also help make your degree more affordable.
Explore Franklin's Associate Degree in Accounting, Bachelor's Degree in Accounting or Master's Degree in Accounting to find the right degree for your career goals.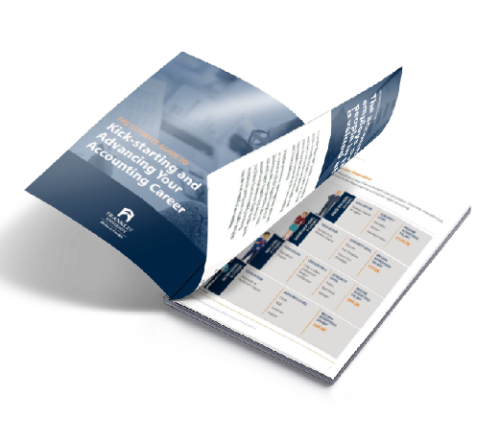 Download Now
Kick-starting and Advancing Your Accounting Career
Get tips for success from 10 in-field experts to help you climb the career ladder and increase your earning potential.