CareerBeam
Get career support resources 24/7
CareerBeam is a virtual career success center that is content rich in all aspects of career development, including assessments, professional resume and cover letter builders, interview preparation materials, search strategy resources and more.
CareerBeam also provides the best company and industry research tools, employer job postings, and search campaign technology to assist you in all aspects of your career development and strategic search process. Check out the CareerBeam User Guide.
How to access CareerBeam:
Current Franklin University students and alumni with active myFranklin accounts can access CareerBeam through myFranklin.
Franklin alumni who do not have myFranklin access should email careerbeam@franklin.edu for assistance.
How do I find job openings?
Job and internship postings can be found under the 'Getting the Job' menu heading where you can search for permanent employment or internship opportunities in the United States or around the world. Choose to narrow your search by company, location, keyword, title or skill. Create job alerts, find connections through social media, and much more!
For more information, access the Job/Internship Board User Guide.
Find out more about what CareerBeam has to offer:
Career Exploration can help you identify key characteristics about yourself by assessing your:
Values
Temperament
Personality
Interests
Skills and Talents
This type of self-understanding will help you make fulfilling career choices and help you effectively communicate your worth to employers during the job search process. You can also analyze your preferences for other aspects of your career such as Industry, Location, and Company Culture in the Defining Your Options section.
You can begin to envision your future by developing a long term vision to assist you in setting and working toward long-term career goals to ensure a satisfying career. CareerBeam combines and summarizes all of your assessment and exercise results into your own customized Career Profile Report.
For more information, access the Career Exploration User Guide.
How to get organized, plan your strategy, set goals, and identify barriers for your career search are all covered in Create a Career Plan. The best way to conduct an effective career campaign is to:
Set goals;
Constantly check your plan for feasibility and reasonable expectations; and
Manage your productivity so that you execute in a desirable timeframe.
This module contains many exercises to help you plan an effective search strategy, identify target companies and make good career decisions.
For more information, access the Career Planning User Guide.
This section contains the guts of what is needed to create your marketing materials (pitch, resume, cover letter, follow-up materials) for your career search. Each section walks you through a step-by-step process to create effective, accomplishment-based materials with easy to use "builders".
The Resume section addresses all aspects of positioning users to attract the attention of potential employers. While a resume cannot get you a job, it is the 'hook' needed to set you apart from the multitude of candidates that may be vying for the same position. CareerBeam provides the best resume creation tools to assist you in a step-by-step process, which produces a resume that markets your greatest strengths and accomplishments to potential employers.
For more information, access the Resume User Guide.

The Interview Preparation section provides the user all the necessary information and tools to thoroughly prepare for a successful interview experience. You will learn the most important secrets to preparing for the interview including:
Understanding and utilizing the employer's perspective;
Answering interview questions, including the importance of asking good questions;
Handling different types of interviews such as phone, case, panel and video;
Practicing your interview responses and record your answers for feedback.
For more information, access the Interview User Guide.
The CareerBeam Research Tools provide a variety of resources for researching:
Companies
Contacts
Associations
Locations
Each resource has been reviewed in detail and selected for the quality and timeliness of information. Although these are the best sources available for depth of information, no resource is 100% accurate. These resources are provided to aid in beginning your search and when preparing for an interview or a networking meeting, it is always best to check news sources and company websites (provided in this section) for the most up-to-date details.
For more information, access the Research Tools User Guide.
CareerBeam's 'Account' menu is rich with information, features and settings. The user can set up their system profile or review documents uploaded or completed in the system including resumes, cover letters, assessments or exercises.
The Account section also allows the user to customize the system to display jobs that meet their targets. It helps to:
Track jobs, companies, and contacts to implement an effective search;
Set up job and networking campaigns that will walk them through to effective outcomes;
Create Job and News Alerts to stay informed about target companies and jobs;
Track activity and access saved searches and exports to monitor progress.
For more information, access the Account User Guide.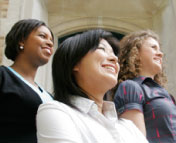 Ready to start an application?
Franklin's student-centered philosophy is one of the many reasons so many students choose us!
START YOUR APPLICATION