Award Letter
Help with understanding your Award Letter
Welcome to Franklin University's Understanding Your Award Letter page. We understand that navigating financial aid can be challenging so we offer the graphic and video below to provide assistance.
Applicants and students who apply for financial aid from Franklin University will receive an official award letter electronically via a myFranklin account at my.franklin.edu (for current students) or a myTools account at mytools.franklin.edu (for applicants). The award letter is issued to show the amount and what types of aid you may be eligible for within a particular term or academic year.
Please use the example letter below as a resource to help you understand Franklin University's award letter and to assist you with preparing for your next steps in accepting and receiving your financial aid awards.
Click Here to download PDF
Award Letter Video
We hope that the graphic above was helpful. For those who would like a guided explanation of the award letter, please view the video below. We recommend you have your award letter with you for reference while watching the video.
Financial Aid Glossary
For additional information, including a glossary of financial aid terms, visit our Financial Aid Resources page
Financial Aid Office Hours and Contact Information
The helpful staff of the Financial Aid Office can assist you with general information or help you manage financial issues during your time as a Franklin University student. Please visit Financial Aid and view the Financial Aid Hours of Operation section for more information.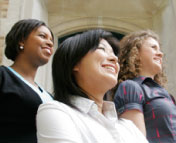 Ready to start an application?
Franklin's student-centered philosophy is one of the many reasons so many students choose us!
START YOUR APPLICATION