Financial Aid Awarding Process
Once all documentation has been received, the Financial Aid office will process your file in dated order as received. In general, your files will be processed in approximately 15 days after receiving all required documentation. However, processing times may vary depending on the time of year. If you were selected for verification, the process may take a little longer.
Your award letter will notify you of your aid eligibility. The aid awarded is based on the hours of enrollment listed on the Award Letter, your Financial Aid Satisfactory Academic Progress status, and award code explanations. If you are eligible for loans, it will also include a link to the Master Promissory Note. Please read your Award Letter thoroughly and view the Terms of Award below.

If your enrollment hours change, your eligibility for programs and/or aid amounts may also change.
To view the aid available to you, please access your Financial Aid Award Letter by one of the methods below. If you are a current student or new applicant, you will receive an e-mail notification that your award letter has been processed and is available to view:
Current Students: Access your Award Letter through your myFranklin account. Click on the "Shortcuts" tab and proceed to your myTools student access page. Under the Financial Aid section, click on "Financial Aid Award Letter". You will need to open your Award Letter and view the options available in the "Loan Acceptance" section.
New Applicants: Access your Award Letter through mytools.franklin.edu. Click on Log In and enter the username and password sent to you by Admissions at the time of application. After logging in, under the Financial Aid section, click on "Financial Aid Award Letter". You will need to open your Award Letter and view the options available in the "Loan Acceptance" section.
Important facts about your Award Letter:
After viewing your Award Letter, proceed to the How to Accept/Reject My Awards section below.
Loans will only be processed once you have accepted them on your Award Letter.
Grants are automatically accepted on your behalf.
Visit the Loan Process page if you are a first-time borrower of federal student loans, or a first time borrower at Franklin University. There are two federal requirements you must complete. 1) Student Loan Entrance Counseling; and 2) Master Promissory Note (MPN) for Federal Direct Stafford Loans
See Types of Financial Aid for program eligibility requirements.
Visit our Award Letter page for a visual guide and narrated video featuring detailed information on your award letter and what it means to you as a student.
Loan Acceptance:
You will receive an e-mail notification informing you your Award Letter is available to view online. After viewing and reading the Important Comments Section on your Award Letter, scroll down to the Loan Acceptance section. There will be two options presented for submitting your Award Letter. Carefully follow the instructions for the option you select.
Your financial aid is based on information you provided on your FAFSA. It is your responsibility to ensure the accuracy and completeness of the information on every FAFSA transaction.
Financial Aid Satisfactory Academic Progress Status:
This is the current status of your academic progress for financial aid.
Enrollment Hours:
Aid is based on the hours of enrollment listed.
Changes in your enrollment may impact your aid.

Code Definitions
A: Award is accepted via printed Award Letter.
C: Award canceled.
E: Funds that are not transmitted by the Financial Aid office but are included in the estimated financial assistance.
G: Award is a tentative amount. Amount of funds are pending State of Ohio or Federal government budget approval.
H: Hold until eligibility is determined.
N: Not eligible
P: All Direct Subsidized and Unsubsidized Stafford Loan funds placed into this status until an Award Letter has been received/processed.
R: Rejected by you.
S: Award Accepted Online
T: Indicates your last term of eligibility.
W: Withdrawn from Federal Title IV eligibility.
Z: Federal restrictions have been placed on your account but state funds are still applicable.
Important Comments
See the important comments printed at the bottom of your Award Letter. Further action may be required.

Special Circumstances
If you have circumstances that were not reflected in the FAFSA process, you may have the right to appeal. Contact us at 1.877.341.6300 to review your situation and receive appeal information.

Revisions and Cancelations
The University reserves the right to review, revise, or cancel an award at any time.

Aid Notes
A Federal Work Study award is not a guarantee of employment or financial aid.
Federal student loans listed on the Award Letter are gross amounts. The actual funds received may be less due to fees assessed by the lender.
State aid will only cover up to the cost of tuition and fees and is not refundable to the student.
Federal Financial Aid funds are permitted to be utilized for one repeat of a course that was already successfully completed, aid cannot be used to retake courses that have been successfully completed more than once. You are only eligible to receive financial aid funds for courses that apply toward your current degree program.
Student Responsibility
Franklin University is committed to assisting students in applying for financial aid resources. However, students enrolled in courses at Franklin are ultimately responsible for paying their tuition and fees.
Book vouchers are available to eligible financial aid students each term to assist in purchasing books when excess financial aid is available and has not yet been refunded.
Vouchers are available 3 weeks prior to the start of the term. The maximum book voucher limit per term is $800 with a cap of $25 on supplies and shipping and handling fees.
STEP #1: LOGIN
To determine if you are eligible, login to myFranklin. Under the Shortcuts menu, select the Academic tab and then myTools.
STEP #2: DETERMINE YOUR ELIGIBILITY
Located under the section titled Financial Aid is a link to 'Bookstore Charge Transactions'. Review the information to determine your eligibility for a Book Charge. If it shows you will have available funds for books, continue to Step #3.
STEP #3: PURCHASE YOUR BOOKS
Proceed directly to the Bookstore with your Franklin Student ID number, your schedule, and a photo ID for verification. Let the Bookstore staff know you are utilizing Financial Aid funds to pay for your books.
At the top of the Bookstore Charge Transaction Page, click on 'My Class Schedule'. In the bottom left-hand corner is a link 'Click here to view/purchase [Term/Year] course material'. This link will take you directly to the Barnes & Noble site and automatically selects the book(s) required for your course(s). Choose the format for your books and add the books to your cart. Choose the delivery method and form of payment. To utilize excess financial aid funds to pay for your books, select "Financial Aid."
In addition to the Award Letter, Franklin University students that are currently enrolled and prospective military students are provided documentation related to their financial aid package in the form of a "Shopping Sheet." The federal government is encouraging all colleges and universities to provide this document to utilize for a comparison of costs and financial aid offers at multiple institutions. Click here to see an example of the 2017-18 standardized form.
This standardized form is not currently mandated, so not all schools will send this document to you. Franklin University has voluntarily adopted the use of the Shopping Sheet in order to provide our prospective students with this informative consumer tool to assist in making a decision that best fits their needs.
Accessing a Shopping Sheet is easy!
Current students can access their Shopping Sheet through their myFranklin account, right below the Financial Aid Award Letter option.
Prospective Military students will receive a Shopping Sheet mailed to the address in the Franklin University system.
All students (either prospective or current) that have applied for federal financial aid can always request a printed version of the Shopping Sheet by talking to a Franklin University representative.
Please note that this is NOT an Award Letter. In order to accept or decline any loan offers from Franklin University, steps associated with the loan process will need to be completed, as detailed on our Loan Process page.
Here are some of the components that are highlighted in a Shopping Sheet that should assist with a comparison between institutions:
Costs for the year - Visit our Cost of Attendance page for more information and examples. This figure is an estimate and is based on a number of variable factors, such as enrollment level, average living expenses and other educational costs.
Grants and Scholarships – These types of funds are referred to as "gift aid" because there is no repayment required. This section of the Shopping Sheet will detail the amount of federal and state grants, as well as scholarships funds that the student will receive for the award year. For additional information view Franklin's Grant and Scholarship pages.
What you will pay for college – The net cost is an estimate of how much it will cost in order to attend Franklin University for the award year. In order to obtain this figure the total amount of "gift aid" is subtracted from the estimated cost of attendance. This figure does not take into account loans that may be borrowed by the student or a parent.

Net costs may change based upon specific situations.

Options to Pay Net Costs – this section details the different options available to assist students in paying for their education. The options available will require the student earn the funds through work (work-study, military benefits, etc.) or the student borrow the funds (federal loans).

Please note that the Federal Perkins loan is shown on the Shopping Sheet because it is a standardized form. Franklin University does not currently participate in this program.
5.23.17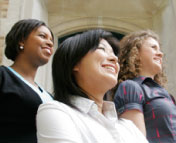 Ready to start an application?
Franklin's student-centered philosophy is one of the many reasons so many students choose us!
START YOUR APPLICATION