Cost of Attendance at Franklin University
Estimate costs for education and living expenses with our student budget example.
The Cost of Attendance (COA) is the total estimated amount it will cost you to attend Franklin University during the award year. Your COA estimate can include costs for the following items:
Tuition and fees
Room and board
Books and supplies
Transportation
Personal and miscellaneous expenses
Other costs allowed but not automatically built into your budget include child care, elder care, or a computer purchase. To include these items in your budget, you must notify the Financial Aid office of the costs and provide supporting documentation.
View our Student Budget Example
These COA estimators are provided for consumer information. These COA models assist with the determination of your financial aid eligibility and include estimated costs of all expenses associated with attending Franklin University.
If you have filed the 2017-18 FAFSA and have received your award letter, please refer to the first page of your letter for the appropriate year to obtain your actual cost of attendance.
If you have NOT filed the FAFSA, the following COA models can be used to determine a best estimate of your educational expenses:
2017-18 Cost of Attendance Examples:
Note: Financial aid funds and outside assistance provided to you by other sources cannot exceed the total cost of attendance for the terms you are enrolled. If you are receiving assistance from outside sources not awarded to you by Franklin University, you must disclose this information to the Financial Aid office by submitting the appropriate year Declaration of Outside Tuition Assistance form which is available on our Financial Aid Forms page.
3.22.17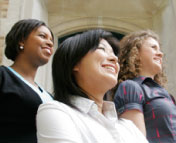 Ready to start an application?
Franklin's student-centered philosophy is one of the many reasons so many students choose us!
START YOUR APPLICATION