Financial Aid Disbursements
Refunds from your Financial Aid Accounts
Refunds will be issued from Franklin University only if your tuition account is paid in full and has a credit balance. Any existing credit balance that you are eligible to receive will be refunded to you within 10-14 days.
A credit balance (ex., -342.67) indicates your tuition is paid and this is the remaining balance that could be refunded to you. Once you see "Student Refund" on your account, your refund will be issued (by mail, debit card, or direct deposit) 10-14 days following the date it posted to your account. To view your tuition account, go to my.franklin.edu.
It may take your bank 48 business hours to post your direct deposit refund to your checking/savings account.
Your refund may be delayed if Franklin does not have your correct address on file. To ensure accurate records, you may update your address by accessing your myFranklin account. Click on the "Shortcuts" tab and proceed to your myTools student access page. Click on the Address Change under User Account.
Important Notes:
If your file is under review for Return to Title IV Funds, all refunds will be held until the review is complete. For more information about this process, click here and view the Return of Title IV Funds section.
If you are receiving tuition assistance from sources other than financial aid, you must complete the appropriate year Declaration of Outside Tuition Assistance located at franklin.edu/finaidforms. Failure to report this information could affect your aid eligibility and result in a loss of funding and delay any refunds.
How Will I Receive My Refund?
The choice is yours - debit card, direct deposit, or check. Sign up for one of Franklin's convenient disbursement methods. Choose direct deposit or debit card and you'll save time and get your money faster with no additional waiting time for a check to arrive in the mail, a trip to the bank to deposit the check, or waiting for it to clear.
To select your refund method, visit my.franklin.edu and login to your account. From the drop down under the Shortcuts Tab, select myTools. Under the Financial Information Section, select Manage My Refund and follow the instructions to sign up.
If your file has been processed and you have received an Award Letter and all requirements have been met, funds will post to your tuition account by week's end according to the schedule(s) below. Disbursements will be posted every week from this date forward throughout the trimester.
Disbursement Schedule
Federal Direct loans have 2 disbursements per term. Prior to the mid-point of the term the loan amount accepted will be split in half, and each half will have a separate disbursement date. After the mid-point of the term, there will be only one loan disbursement for the full accepted amount. This will impact the timing of balances on your tuition account along with the timing of any refunds. If you meet all the eligibility requirements, aid will post to your tuition account based on your first class start date for the term. Please review the Disbursement Schedule below so you can plan your finances accordingly.

updated 7.10.17

This feature is intended for Financial Aid questions.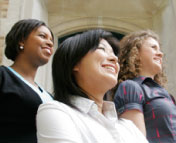 Ready to start an application?
Franklin's student-centered philosophy is one of the many reasons so many students choose us!
START YOUR APPLICATION