Loan Process
How do I receive the loans listed in my Award Letter?
1. Return your Award Letter
Your loan(s) will not be processed until you return your signed award letter to the Financial Aid office. Once we receive your award letter and you have indicated you want to borrow a student loan, we will electronically submit your loan request(s).
2. Complete Student Loan Entrance Counseling - Required

First-Time Federal Direct Loan borrower (You have never borrowed Direct Loans or completed Entrance Counseling)
First-time borrowers are required to complete the Student Loan Entrance Counseling. This is a one-time requirement. Go to studentloans.gov and login using your FSA ID. Click on the Getting Loans tab at the top and then Complete Counseling and choose Entrance Counseling.
Have Already Completed Counseling (You are a first-time borrower at Franklin University, but completed Entrance Counseling for another institution)
If you have previously borrowed Federal loans at another institution and have completed Entrance Counseling, you are not required to complete another one, but you will need to have the Entrance Counseling sent to Franklin. It is simple to do! Just login to studentloans.gov using your FSA ID. Click "View My Documents," the first option available under "I Want To." Filter by: Loan Counseling and click the most recent Subsidized/Unsubsidized Entrance Counseling listed. Click "Notify Additional School" and choose Franklin University and "Submit."
3. Complete a Master Promissory Note (MPN) for Federal Direct Loans
If this is your first time borrowing a Direct loan, you must complete a Direct loan MPN. If you completed a Direct loan MPN more than 10 years ago, your MPN is expired and you must complete another one.
When will I receive the proceeds of the loan?
Please review our Disbursement Schedule. Franklin University will send you a notification (typically by email) when the proceeds are applied to your tuition account at Franklin. If a credit balance is created when the loan funds are applied, a student refund will be issued within 10-14 days after the date the credit balance occurred. You can view your tuition account at my.franklin.edu.
4. Complete Student Loan Exit Counseling
If you borrowed federal student loans, completing loan exit counseling is a federal requirement. You must complete the loan exit counseling if you are graduating with an associate's, bachelor's, or master's degree, or if you cease to be enrolled or are enrolled less than half time (undergraduate - six semester hours; graduate - three semester hours).
Important Facts About Federal Direct Loans
There are two types of Federal Direct loans:
Subsidized - awarded to undergraduate students based on need. The federal government pays the accruing interest on these loans when students are enrolled in school at least half-time and during any deferment.
Unsubsidized - awarded to undergraduate and graduate students and are not based on need. Students are responsible for paying accruing interest and can choose to pay the interest while in school or have it added to their loan balance.
The Financial Aid office will determine if you qualify for subsidized, unsubsidized, or both. General facts are listed below. For additional information about loans, eligibility periods, and interest rates, visit our Types of Financial Aid page.
Repayment begins 6 months after graduation, stops attending at least half time, or leaves school.
Standard repayment is 10 years, but there are other options available.
Interest rates are subject to change every July 1. View current rates and a loan calculator.
At least half-time attendance is required (undergraduate-6 semester hours; graduate-3 semester hours)
Franklin University requires student loan funds be applied directly to outstanding balances within the same financial aid year. If this creates a credit balance, a refund will be issued within 10-14 days.
Borrowing is a personal choice and should be made after careful consideration of the terms of the loan.
The National Student Loan Data System (NSLDS) is the U.S. Department of Education's (ED's) central database for student aid. NSLDS receives data from schools, guaranty agencies, the Direct Loan program, and other Department of ED programs. NSLDS Student Access provides a centralized, integrated location where Title IV recipients can access and inquire about their loan and/or grant data.
1.23.17
Federal Direct Parent PLUS loans are:
Available to parents and step-parents with good credit histories.
Parents can borrow up to the cost of attendance of their dependent's undergraduate education, minus any other aid for which the student is eligible.
To qualify, the student must meet the requirements for federal financial aid, which includes filling out the FAFSA (student and parent information).
Parents must also complete Franklin's Parent PLUS loan application and Direct Parent Plus MPN which can be located on our Financial Aid Forms page.
If a credit check was initially denied and is now accepted due to an appeal or the addition of an endorser, the borrower is required to complete the PLUS Counseling found at studentloan.gov.
Parent PLUS funds are processed electronically and applied directly to the student's account.
For additional information about Parent PLUS loans, visit our Types of Financial Aid page.
Federal Direct Graduate/Professional PLUS loans are an option if,
You are enrolled at least half time in a graduate program at Franklin and you have already applied for the annual loan maximum in federal unsubsidized loans before applying for a GRAD PLUS loan.
You can borrow up to the total cost of attendance, minus any other aid for which you are eligible.
Repayment starts within 60 days of the loan's last disbursement for the school year, though borrowers may be eligible for in-school deferments. Graduate PLUS funds are processed electronically and applied directly to the student's account.
To qualify, you must meet the requirements for federal financial aid.
You must complete Franklin's Graduate PLUS loan application, the DIRECT PLUS MPN and DIRECT PLUS Entrance Counseling which can be found on our Financial Aid Forms page.
If a credit check was initially denied and is now accepted due to an appeal or the addition of an endorser, the borrower is required to complete the PLUS Counseling found at studentloan.gov.
For additional information and interest rates, visit our Types of Financial Aid page.
A Private Education Loan, also commonly referred to as an Alternative Loan, is offered by banks and other private lenders to cover the costs of college not covered by financial aid. A Private Education Loan can also be used for covering past due balances and are subject to approval based on credit review and specific lender requirements.
Before you apply for a Private Loan, you should exhaust your eligibility for Federal loans (Federal Direct, PLUS, and Grad PLUS) as they are typically less expensive and offer flexible repayment options.
Private Education Loans - Preferred Lender List and Disclosures
The Financial Aid office at Franklin University is committed to providing students with the best possible services. As part of this commitment, we seek lenders who demonstrate excellence. Our students are our number one priority and we want to see that continue with the lenders we choose.
Franklin University does not endorse any Private Educational Loan Lender and students are not required to choose a lender from Franklin's Private Educational Loan Preferred Lender List. Borrowers are welcome to choose any eligible, participating lender regardless of whether it appears on our preferred lender list.
Franklin's preferred lenders are: Citizens Bank, Discover, PNC, Sallie Mae, and Wells Fargo (none of the lenders are affiliated with each other).

How to Apply for a Private Education Loan:
Step 1: Compare Lenders and Apply
To make the process of selecting a lender easier, you may select a lender from Franklin's Preferred Lender List. The University provides comparative information to students of our selected lenders through the Great Lakes FastChoice website where you can compare and view lender benefits, loan disclosures, loan cost examples, and apply for a loan.
Step 2: Applicant Self-Certification
Before disbursement of any private education loan can occur, the Private Education Loan Applicant Self-Certification form must be completed and submitted to your lender, not Financial Aid. Many lenders provide this form during the loan application process. If you did not complete this form during the application process, please download it now and submit it to your lender.
In order to complete Section 2 of the Self-Certification, you will need to fill in the Cost of Attendance (COA) and Estimated Financial Assistance. The COA can be found: On your Financial Aid Award Letter from Franklin University; or If you have not received your Award Letter, you may obtain an estimated COA amount by visiting our Cost of Attendance web page and select either the undergraduate or graduate COA model.
Step 3: Authorization
Your lender will send Franklin University's Financial Aid office a request to certify your loan. At this time, we will email you an Authorization for Private Education Loan, which you need to complete and return to our office prior to certification.
How Franklin Selects Preferred Lenders
The Private Education Lender List is reviewed annually. The Director of Financial Aid provides comparative information of borrower benefits for Private Education loans to the VP for Institutional Compliance & Government Relations with recommendations of at least three unaffiliated lenders. Selection criteria are based on the following:
1. Competitive interest rates
2. Competitive front end and back end benefits
3. Efficiencies in processing loan transactions through Scholarnet.
4. Lender must scope loan information in Great Lakes FastChoice product and update any changes
5. School must be able to certify loan through the Scholarnet system
6. Loan funds are submitted to the school through CDS at Great Lakes Educational Loan Services
7. At least three lenders must be unaffiliated with other preferred lenders at Franklin University.
Lenders are affiliated if:
a) The lenders are under the ownership or control of the same entity or individuals;
b) The lenders are wholly or partly owned subsidiaries of the same parent company;
c) The directors, trustees, or general partners (or individuals exercising similar functions) of one of the lenders constitute a majority of the persons holding similar positions with the other lender; or
d) One of the lenders is making loans on its own behalf and is also holding loans as a trustee lender for another entity.
Additional Notes:
1. Franklin University will protect the borrower's choice of lender by:
Making it clear to borrowers that they have the right to select any lender
Processing/certifying loans timely, regardless of the lender selected
2. Franklin University has a policy that employees will not request or accept any payments or benefits of any kind from a lender in exchange for being included on a preferred or recommended lender list or in exchange for the school recommending the lender to its students or parents.
3. Franklin University has a policy that employees are prohibited from receiving any gift, including travel gifts, of more than nominal value from any lender, servicer, or guarantee agency.
4. Franklin University reserves the right to add or remove any lending agency from the Preferred Lender List at any time.
5. Each Financial Aid employee is held to the highest ethical principles, as defined by our code of conduct.
10.30.14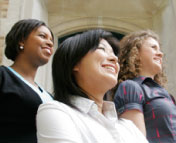 Ready to start an application?
Franklin's student-centered philosophy is one of the many reasons so many students choose us!
START YOUR APPLICATION