Other Financial Aid Resources
Tax Benefits
Higher Education Tax Benefits for the 2016 Tax Year
IRS Publication 970 is an annual guide to federal tax benefits for higher education which gives you an overview of all the options that may be available to you.
Helpful Websites and Information
Annual Credit Report
This central site allows you to request a free credit file disclosure, commonly called a credit report, once every 12 months from each of the nationwide consumer credit reporting companies: Equifax, Experian and TransUnion.
Bureau of Labor Statistics
Will I make enough money in my chosen occupation to repay student loans I receive?
College.gov - Preparing for College from A-Z
College.gov was designed by students for students and features first-person accounts of students who overcame challenges to going to college such as peer pressure, lack of family support, and financial barriers. It provides relevant, comprehensive information about why to go, how to go, and how to pay for college or other postsecondary education programs.
Consumer Financial Protection Bureau
Compare your financial aid offers.
Debt Resolution
This site will provide you with accurate information and assistance to help resolve defaulted loans or grants assigned to the Department's Default Resolution Group.
Department of Education - Office of Postsecondary Education
This detailed site has information for students about federal aid programs, new tax benefits, career information and more.
FastWeb - a scholarship search function
Check out the Internet's largest free scholarship search. Start a search and get results in five minutes or fewer.
Funding Education Beyond High School
A U.S. Department of Education comprehensive booklet for funding education beyond high school. You can find information about the various programs including grants, loans, and the Federal Work Study program.
Glossary of Financial Aid
Provides a description of the most commonly used financial aid terminology.
International Education Financial Aid
This site serves as a resource for International students, providing information about scholarships, loans, and other programs that may be available.
Loan Servicing Centers for Students
Provides a list of Loan Servicers and their contact information.
National Student Clearinghouse
The National Student Clearinghouse offers services to assist students to track their student loans and obtain verification of their in-school status.
National Student Loan Data System (NSLDS)
NSLDS is the U.S. Department of Education's (ED's) central database for student aid. NSLDS receives data from schools, guaranty agencies, the Direct Loan program, and other Department of ED programs. NSLDS Student Access provides a centralized, integrated view of Title IV loans and grants so that recipients of Title IV Aid can access and inquire about their Title IV loans and/or grant data.
Selective Service Registration
Males between 18 through 25 years of age can now complete the required registration online.
StudentAid.Gov
Studentaid.gov is Federal Student Aid's comprehensive site for information and interactive tools.
Social Media - Federal Student Aid
The social media properties on Facebook, YouTube, and Twitter offer students, parents, and borrowers another option to interact with Federal Student Aid to learn about the
student aid process. Please visit StudentAid.gov or visit us on Facebook, Twitter, or YouTube.
Student Aid Tips for Unique Student Populations:
Loan Repayment
For information about income-driven repayment plans and other repayment options for federal student loan borrowers visit http://studentaid.ed.gov/repay-loans/understand/plans. You may also access a Repayment Estimator at https://studentloans.gov/myDirectLoan/mobile/repayment/repaymentEstimator.action.
Important Phone Numbers and Web links
updated 2.2.16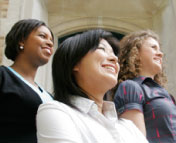 Ready to start an application?
Franklin's student-centered philosophy is one of the many reasons so many students choose us!
START YOUR APPLICATION