Things that Affect Your Aid
Things That Can Affect Your Aid
Changes in your enrollment may affect your financial aid eligibility
If you are planning to receive financial aid, it is important to understand that your enrollment hours and academic performance must remain at a certain level to continue to receive full benefits. Please read through the following sections carefully to make sure you understand your eligibility requirements.
Enrollment Hours
The eligibility presented on your Award Letter is based on full-time enrollment, unless otherwise indicated on your award letter. If your enrollment hours are different than the hours of enrollment presented on your Award Letter or if they change during the term, your eligibility for your awards will most likely also change.
Overpayments – Federal Pell and Supplemental Educational Opportunity (SEO) Grants
An overaward occurs when a student receives Pell and/or SEO Grants in excess of their eligibility. When a student's academic record indicates that they withdrew from, never attended, and/or stopped attending (unofficially withdrew from) any or all of their courses, eligibility will be recalculated based upon actual enrolled hours.
If the calculation determines that Pell and/or SEO Grants were received in excess of actual eligibility, you will be notified an overaward exists. Upon notification of the overaward, you will have 45 calendar days to repay this debt back to Franklin University. To review the balance owed, log onto your myFranklin account.
It is your responsibility to make payment arrangements with the University. The balance owed to the University must be repaid in FULL within 45 calendar days. Payments can be made by the following methods within the 45 day period:
by logging onto myFranklin and accessing CashNet
at the Welcome Center – a computer is available to access myFranklin and CashNet
by mailing payment to: Franklin University - Business Office 201 S. Grant Ave., Columbus, Ohio 43215-5399
If the 45 calendar days have elapsed and the balance remains unpaid to the University, the debt will be referred to the U.S. Department of Education Debt Resolution Services for collection as well an overpayment will be placed on the National Student Loan Data System (NSLDS). You will not be eligible to receive any Federal financial aid funds at Franklin University or any other post-secondary institution until the debt is resolved. It is your responsibility to contact the Department of Education to make payment arrangements to resolve this debt. Franklin University can no longer accept payment for this debt after the 45 day period has expired. Debt Resolution Services can be reached by calling 1-800-621-3115 or by mail at the following address:
U.S. Department of Education
Debt Resolution Services
P.O. Box 5609
Greenville, Texas 75403
As a result of a reduction in enrolled hours, you may also owe a balance to Franklin University. To review the balance owed, log onto myFranklin account.
Satisfactory Academic Progress (SAP) for Financial Aid
In order to comply with the State of Ohio and federal regulations under Section 668.16 (e), Franklin University has established standards for measuring satisfactory academic progress for students receiving Title IV or State assistance. These standards contain both qualitative and quantitative components. Financial Aid Satisfactory Academic Progress (SAP) is grouped into two categories:
Study Skills Evaluation
If you are referred by Financial Aid for a Study Skills Evaluation, please contact the Student Learning Center at 614.947.6800 or through email at slc@franklin.edu. You will be provided with the necessary information to complete the study skills assessment.

Financial Aid Consequences
Students receiving any type of financial aid may lose part or all of such assistance if they stop attending or withdraw from one or more courses in any one trimester. Any overaward that results from withdrawing or nonattendance must be repaid before further financial assistance may be received. In considering whether or not to withdraw from or stop attending a course, students receiving financial aid should first consult with the Financial Aid office.

Tuition Refunds
For additional information about tuition refunds on Course Withdraw, please click here.
2.2.16
Franklin University Return of Title IV Funds Policy
Due to federal regulations, students who receive federal financial aid and completely or partially withdraw during a trimester will be subject to a recalculation of funds awarded. The outcome of the recalculation is dependent on when the withdrawal is initiated and the type of aid received.
Franklin University is required to review a student's account and recalculate financial aid eligibility in the following situations:
A student completely withdraws from all classes during the trimester, or;
A student never attends any classes during the trimester, or;
A student does not complete all modules for which he/she has registered during the trimester
Important Note: If you have a credit balance on your account at the time one of these situations occur, all refunds will be held until the recalculation review has been completed.
What is the law?
Per section 668.22 if the Code of Federal Regulations, Title IV federal financial aid eligibility will be reviewed and considered for recalculation when a student withdraws from any of his or her classes within a term that is comprised of modules.
After the recalculation is completed funds will be sent back to the appropriate Title IV agency in the following order: Unsubsidized Federal Direct Loans, Subsidized Federal Direct Loans, Federal PLUS Loans, Federal Pell Grant, Federal SEO Grant, Federal IAS Grant and other grant or loan assistance authorized by Title IV. Federal Work Study funds are not included in the calculation.
What is a withdrawal?
It is important to become familiar with the University's Attendance & Tuition Refund Policy in the Academic Bulletin. The Financial Aid office is responsible for reporting in the calculation the last date of attendance as determined by the institution from its attendance records (§668.22(b)(1)).
PLEASE NOTE: A withdrawal from all or any of your courses could result in a negative effect on your Satisfactory Academic Progress (SAP). Please view the section on Satisfactory Academic Progress for Financial Aid located on this page.
Confirmation of future enrollment will prevent the recalculation process from being initiated. If a student decides that dropping a single course during the term is necessary, but expects on completing all subsequent module courses during the same trimester, they will be given the option to confirm that intention at the time of withdrawal. Without a documented confirmation by the student Franklin University will assume that the student has ceased attendance and will begin the Return of Title IV funds process.
If you never attend or cease attendance in a class and receive a Z grade, your financial aid will be reviewed resulting in either full or partial cancelation of federal funds. If there is any combination of dropped/withdrawn courses, Z grades or No Shows received that result in zero hours of enrollment for a term, your file will be reviewed in conjunction with the Return of Title IV funds calculation procedures.
How is my account affected?
The federal recalculation of aid is determined on a pro-rated basis, taking into consideration the actual number of days that a student is in attendance. You will not be required to return any portion of your federal financial aid if you complete at least 60% of the term (as determined by your last date of attendance reported by your instructor(s)). State regulations and scholarship criteria differ from federal requirements, therefore those funds will be reviewed separately.
Once the recalculation is completed you will receive notification of any action to your account. If the recalculation indicates that you are eligible for a Post Withdrawal Disbursement (PWD) in the form of loan funds, you are required to submit the requested documentation within 14 days from the date of the notice or funds will not be disbursed to your account. Eligible grant funds from a PWD will automatically disburse to your Franklin University account and either be refunded to you or will pay on any remaining balance owed to the University.
If the calculation indicates that the school is required to return funds, the Financial Aid office will return the funds to the appropriate Title IV program. You will then owe any difference as reported on your account. If you fail to repay any outstanding balance owed to the University you will not be permitted to register for any future terms and may also be subject to being dropped from current courses.
Return of Title IV Funds Calculation Example - this example is not indicative of every situation. Each Return of Title IV Funds Calculation determination is dependent on individual student circumstances.
5.19.16
Failure to disclose information regarding external sources of assistance with paying your tuition prior to receiving your financial aid could cause an adjustment to your financial aid later. You may have to pay back a portion of the funds you received.

If you expect to receive any outside assistance, complete the appropriate year Declaration of Outside Tuition Assistance Form located on our Financial Aid Forms page.
If you are retaking a course, it is important to contact a Financial Aid Counselor to ensure your eligibility for the current term will not be affected. For purposes of determining enrollment for federal aid eligibility, Franklin University is permitted to pay up to one time for a course in which you have previously obtained a passing grade (for federal aid purposes, any grade higher than an "F" is considered to be a passing grade). If you have yet to receive credit in a course there are no limitations on the number of times you may receive funds for that course, unless you are not meeting all academic provisions related to Satisfactory Academic Progress (SAP).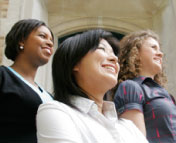 Ready to start an application?
Franklin's student-centered philosophy is one of the many reasons so many students choose us!
START YOUR APPLICATION