Consortium Agreements
Consortium Agreements

Financial Aid for Franklin University's Community College Alliance Students
If your community or technical college is a part of the Community College Alliance Program (CCA) with Franklin University and you are seeking your first bachelor's degree, a consortium agreement between the two institutions makes it possible for the credit hours at your community college to be included for financial aid eligibility through Franklin University. Follow the step-by-step guide below on how to maximize your financial aid!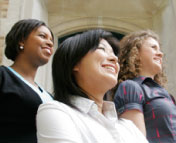 Ready to start an application?
Franklin's student-centered philosophy is one of the many reasons so many students choose us!
START YOUR APPLICATION