Tuition & Fees
Payment Options
When students register for classes, they receive a statement of tuition and fees. Tuition and fees for all students are due by the first day of class. The University accepts MasterCard, VISA, American Express, and Discover Card.
Automated Tuition Payment Service Now Available (Payments made on weekends or holidays will not post until the next business day)
We are pleased to announce our newest student service that will make paying tuition very convenient. CashNet allows you to pay your student account online. The University has provided a secure server so students can safely make financial transactions on the site.
This service offers the following flexible online payment options:
Credit card payment via Internet
Payments from your checking or savings account
Monthly payments from your credit card, checking, or savings account using the "My Payment Plan" option.
Students can access this site by logging onto myFRANKLIN. Click on the Shortcuts Tab and select WebAdvisor. Then, under Financial Information, click "View My Account Balance and Payment Options".
We are excited to offer this new service and hope that it adds additional flexibility and convenience for our students.
Employer Tuition Reimbursement
Many students attending Franklin University participate in tuition reimbursement plans sponsored by their employers.

Deferred Tuition Reimbursement Plan - With this plan, students are reimbursed by their employer upon receipt of each trimester's grades.
Declaration of Outside Tuition Assistance form - If you have applied for financial aid and are receiving payment or reimbursement from any source other than financial aid, you must also submit this form for the appropriate year to the Financial Aid office. You may access it on the Financial Aid Forms page.
Direct Company Billing - With this plan, employers pay the University directly for student tuition. Employers interested in participating in direct payment plans should contact the University Business Office at 614.797.4700 or 1.877.341.6300 (toll free) for further information.
updated 08.13.12

This feature is intended for Financial Aid questions.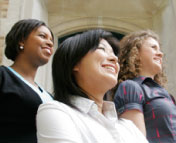 Ready to start an application?
Franklin's student-centered philosophy is one of the many reasons so many students choose us!
START YOUR APPLICATION