Global Partner Schools
Global Partner Schools
A Franklin University education truly has global appeal. Through collaborating agreements, Franklin University services the educational needs of international students around the world.
For more information on the featured international schools, click on the headers below.
The ESI School of Management was founded in 2004 by a group of educational entrepreneurs with a vision to provide high quality education to working professionals in Guatemala.
In 2007, ESI opened its second location in El Salvador City, with a goal of expanding educational opportunities to professionals who are managing leading companies in the region of Central America.
ESI's business and management programs are accredited by IACBE. Franklin University and ESI have collaborated on degree programs at the undergraduate and graduate levels. ESI will promote and enroll students in Franklin's online MBA program in Guatemala and El Salvador.
Students who successfully complete Franklin's MBA program are also eligible to earn a second Master's degree from ESI after completing additional course work and meeting other requirements of the college.
The Instituto Tecnológico Superior de Misantla, or Misantla Tech, is one of 260 higher education institutions that conform the National Technology Institute in Mexico (TecNM). Mexico's TecNM is distributed across different regions enrolling over a half a million students. Misantla Tech belongs in the South-Southeast region of the country, located about 2 hours north of the City of Xalapa, capital of the State of Veracruz.
Misantla Tech offers undergraduate programs in computer science, biochemistry, electro mechanical engineering, information and telecommunication, environmental, petroleum, managerial, and civil engineering. The institution offers two nationally accredited graduate degree programs in industrial engineering and in computer science. Misantla Tech holds the highest graduate enrollment across TecNM in Mexico.
Franklin University's partnership with Misantla Tech was created to foster international student mobility and to help Mexican students gain English proficiency at a professional level. By participating in Franklin's BlueHorizon ESL American Business, Culture, and Language Program, students are exposed to professional English language environments directly related to their studies in the context of a globally competitive world.
The International Nursing Fellowship Program offered through Franklin University and Urbana University includes access to high-quality healthcare and nursing degree programs and services including the Bachelor of Science in Nursing, cultural exchange, and English as a Second Language (ESL).
In addition to working toward specific academic degree programs other program objectives include:
Professional Connections - Students will be introduced to the United States healthcare management system and be given an overview of various health professions along with visits and activities.
Nursing Preparation - Students will be given supplemental nursing licensure instruction.
Cultural Immersion - Students will enhance their English language skills, gain exposure to American customs and traditions, and develop interpersonal relationships with the culturally diverse student body at Urbana through their participation in the courses and extra-curricular activities on and off campus.
Housing accommodations will be in the dormitories of the Urbana University campus.
COSTS INCLUDED IN PROGRAM:
Tuition & fees
Administrative costs such as transportation
Health Insurance
Activities
Total Cost per Semester: $10,000 USD

LIVING EXPENSES:
Total Cost per Year: $11,500 USD
The Franklin MBA program will be made available to students at the Modern College of Business and Science (MCBS) in Muscat, Oman beginning in the fall term of 2010. Classes will be held on MCBS' campus in Muscat, the country's capital, largest city, and seat of government. Classes will be taught in English by a combination of Columbus-based Franklin faculty members traveling to Oman and local faculty members from MCBS and other institutions.
The Modern College of Business and Science in the Sultanate of Oman is a private college accredited by the Ministry of Higher Education. It was established in 1996 and offers Associate and Bachelor Degrees, primarily in business administration and computer science. The Franklin MBA will be the first graduate program offered by the college.
Founded in 1954, Seoul Women's College of Nursing (SWCN) is a four year nursing college in Seoul, South Korea that provides professional nursing education based on foundational ideas in Korean healthcare. Since its inception, SWCN has produced the largest number of nurses in South Korea, with nearly 10,000 graduates.

In consultation with the Commission on Graduates of Foreign Nursing Schools (CGFNS), Franklin University and SWCN have partnered to allow SWCN graduates to complete Franklin's subsequent Bachelor of Science degree in Nursing.
Edutop64 Investment and Training Development JSC is a company ("Topica") organized under the laws of Vietnam, with its principal places of business in Hanoi, Students taking courses at Topica affiliated universities may receive transfer credit at Franklin University. Franklin University and Topica have entered into a partnership in order to complete their degrees according to the course equivalencies.
Topica Affiliated Universities include:
The National Economics University

Head office: 207 Giai Phong Road, Hai Ba Trung District, Hanoi, Vietnam

Hanoi Open University Hanoi

Head office: B101 Nguyen Hien, Hai Ba Trung Dist, Ha Noi

Thai Nguyen University

Head office: Tan Thinh Ward, Thai Nguyen City

Tra Vinh University

Head office: No 126 Nguyen Thien Thanh Street, 4 Hamlet, 5 Ward, Tra Vinh City, Vietnam

Vinh University

Head office: No 182 Le Duan, Vinh City, Nghe An Province, Vietnam

Hue University

Head office: No 03 Le Loi, Hue City, Vietnam
For more information about Topica visit https://topica.edu.vn/
Complete your bachelor's degree – apply today!
Founded in 1987, UWI-ROYTEC is a private tertiary-level institution offering academic and professional programs in Business Management, Information Technology, Teacher Education, and Real Estate. UWI-ROYTEC is an ACTT recognized institution, operating two campuses in the Republic of Trinidad & Tobago.

Beginning in 2016, Franklin and UWI-ROYTEC have partnered to offer Franklin's Master of Science degree in Business Psychology.
Wroclaw School of Banking (WSB) is a private university that was established in the southwestern city of Wroclaw in 1998. WSB specializes in business education and offers bachelor's and master's degrees as well as post-secondary courses. A sister institution offering a bachelor's degree in Economics was established in Opole in 2006. WSB operates under the umbrella of TEB Education Corporation, one of the largest private education groups in Poland.
The WSB offers an MBA in Polish as well as the Franklin MBA Program in English, which was ranked 8th in the 2013 Polish MBA program rankings compiled by the Perspektywy Education Foundation.
In addition to offering the MBA, Franklin expanded its agreement to offer a dual degree that allows students holding a Polish bachelor's the opportunity to take a year of Franklin's undergraduate courses with the ability to earn a Franklin bachelor's degree.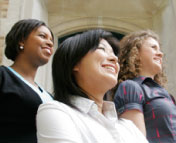 Ready to start an application?
Franklin's student-centered philosophy is one of the many reasons so many students choose us!
START YOUR APPLICATION