Office of International Services and Programs
Office of International Students & Programs (OISP)
International Students & Programs
If you would like to pursue a U.S. education, Franklin University is a great choice for you.
Our diverse academic programs and personalized international student services and programs make it easy for you to focus on your education and broaden your cultural perspectives while studying in the U.S. or abroad.
The Office of International Students and Programs at Franklin University supports the University's global strategies by:
Supporting new students entering the U.S. to pursue Franklin degree programs
Serving current international students studying in the U.S. and abroad
Learn more about becoming an International Student at Franklin University:
Degree Programs for International Students - F1 Status
F1 students can tailor their study in the United States to fit their personal preferences and learning styles by pursuing a degree at Franklin University or Urbana University.
Looking for a big city experience? Study at Franklin University in the heart of Columbus, Ohio, the 15th largest city in the United States. Your classmates will be working adults who bring their learning experiences into the classroom – and after class you can catch up in one of the city's trendiest coffee shops or restaurants.
Would you rather immerse yourself in small-town life? Choose Urbana University, a division of Franklin University located about an hour from Columbus. Live and learn on Urbana's 130-acre campus in Ohio's heartland. With personalized attention from faculty and opportunities to participate in campus activities, you'll be part of a close-knit community from the start.
Undergraduate Programs
Graduate Programs
Undergraduate Programs
Graduate Programs
For more information on Urbana University's programs and admission requirements for international students, please visit Urbana's International Students page.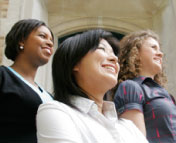 Ready to start an application?
Franklin's student-centered philosophy is one of the many reasons so many students choose us!
START YOUR APPLICATION