Career and Technical Center Students
Career and Technical Students
Get college credit for your training and experience at Franklin University.
At Franklin University, we value your previous experience. If you've attended a career or technical school, Franklin will award you up to 24 hours of technical credit toward one of our degree-completion majors. Depending on the major you choose, we will also award college credit for your certifications, military service, and on-the-job training.
Franklin University Degree-Completion Majors
Apply online now (it's free) and we'll complete an official transfer credit evaluation (also free)!
Want to know more? Email us your questions or call us at 614.797.4700.
Tuition Discount
Franklin University also offers tuition discounts to faculty and staff at career and technical schools who have an articulation agreement with Franklin. Our Faculty and Staff Tuition Reduction Program offers full- and part-time employees a 15% tuition discount for bachelor's and master's degrees at Franklin.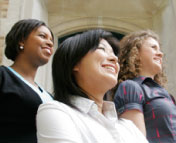 Ready to start an application?
Franklin's student-centered philosophy is one of the many reasons so many students choose us!
START YOUR APPLICATION