International Students & Programs
Pursue your education at a university with global reach
Whether you're starting college for the first time, transferring to Franklin from another school, enrolling in graduate school, seeking to enhance your English language abilities with our ESL Program or planning to earn a U.S. degree from your home country, Franklin offers you a broad range of degrees in an ideal learning environment.
International students at Franklin who come to the U.S. are exposed to a unique perspective on U.S. culture and daily life. While our average international student's age is in the late 20s, our domestic students are slightly older, with an average age in the early-30s. As a result, the majority of our domestic students work full time while attending Franklin, and most classes are in accelerated formats that meet at night to fit busy work schedules.
Our Main Campus is located on 14 acres in downtown Columbus, Ohio, where Nationwide Library the Student Learning Center, Student Services Center, Franklin Bookstore, and the registrar's office are located, along with classrooms, computer labs, testing and tutoring facilities, study centers, and meeting rooms. A non-residential campus in the Discovery District neighborhood, Franklin offers students free parking and convenient access to major highways.
The Office of International Students and Programs (OISP) in the Division of Student Affairs supports hundreds of international students from over 60 countries who are in the U.S. and abroad. Learn more about being an International Student at Franklin University: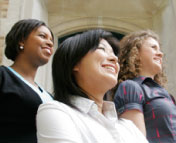 Ready to start an application?
Franklin's student-centered philosophy is one of the many reasons so many students choose us!
START YOUR APPLICATION