Your Questions - Answered!
The decision to continue your education is an important one. You may have questions or concerns about going back to school. Let us help you walk through the decision-making process, and show you how Franklin makes education possible for busy, working adults.
Choose a category by selecting the corresponding button to the right. Still have questions? Contact an Admissions representative at admissions@franklin.edu.
Choose a category by selecting the appropriate header.
Franklin offers you a wide variety of in-demand undergraduate and graduate degree programs.
Curriculum for Franklin's undergraduate majors and graduate programs is designed with input from industry professionals, ensuring a high quality, relevant education that you can apply immediately at work.
Franklin University keeps your high-quality education affordable with competitive tuition rates and multiple types of financial assistance. The University offers maximum flexibility in paying for educational expenses through a variety of payment option that are sure to fit your needs.
At Franklin, we understand that your role as a student is just one part of your life. Our flexible course scheduling options allow you to earn your degree without putting your life on hold. You can learn on campus just one night a week or online on your own time. It is Franklin's mission to make education work for busy, working adults like you.
Undergraduate Admission
Franklin University removes the barriers of higher education with an undergraduate open admission policy. If you have a high school degree, GED or equivalent, or have completed two years of an associate's degree program at an accredited institution, you are eligible for admission into Franklin's Bachelor of Science Degree Programs.
Graduate Admission
Each graduate program has different requirements for entry. Please refer to the specific program page for detailed information about admission requirements.
Since 1902, Franklin University has been committed to helping working professionals achieve their educational goals without disrupting their personal or professional lives. Franklin serves a diverse student population, is convenient and student-centered, is recognized for excellence and innovation and truly eliminates the barriers to earning a college education.
Franklin's transfer credit acceptance policy is exceptionally student-centered, allowing you to transfer the maximum credits possible. More than 90 percent of our students have transferred credits from other colleges and universities - proof positive that Franklin is the place to maximize your transfer credit!
Franklin University's Student Learning Center (SLC) provides services and resources designed to empower you to become an independent lifelong learner. We help thousands of students each trimester with a variety of on-campus and online programs and services to support student learning through tutoring, workshops, and writing support. Every Franklin student, whether taking classes on campus or online, is encouraged to explore the opportunities provided by the SLC.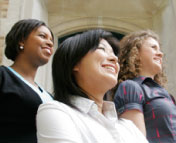 Ready to start an application?
Franklin's student-centered philosophy is one of the many reasons so many students choose us!
START YOUR APPLICATION