Community College Students
Community College Students
Transfer your community college credits toward a bachelor's degree at Franklin
Are you a community college student? If you're about to finish your associate's degree, you're probably wondering, "What's the next step?"
If you have previously earned college credits, you can transfer them toward a bachelor's degree at Franklin University and get started right away. Franklin accepts more of your community or technical college credits than most other institutions, which helps you save time and money toward your degree.
Transferring to Franklin is easy with our 3+1 Articulation Agreements
Franklin is well-known for being a "transfer-friendly" institution. In fact, more than 90% of Franklin students transfer credits from other institutions such as Columbus State Community College and Sinclair Community College. We value your hard work at other schools and we want you to get the most value for your tuition dollars at Franklin.
Finish your bachelor's degree in one year | 3+1 Transfer and Transition Steps
Start: Earn your associate's degree from your community or technical college. All of your associate's degree credits transfer toward a bachelor's degree at Franklin University.
Next: Apply to Franklin and request your official transcripts be sent from your previous schools to receive your official transfer credit evaluation. Then register to take Franklin's Learning Strategies Course (PF 321).
Finish: Finish your bachelor's degree by either:
taking additional community or technical college transfer courses and Franklin courses at the same time, or
taking courses at one of Franklin's locations or completely online, or a combination of both.
Ready to get started right away? Complete our free online application for admission and a Franklin representative will contact you and help create a degree plan that is perfect for you. You can also download the MyFranklin Mobile App to check your admission status in real-time.
If you'd like more information about considerations relative to finishing your bachelor's degree, please visit our Back to College Blog.
Tuition Discount
Franklin University also offers tuition discounts to faculty and staff at community colleges that have an articulation agreement with Franklin. Our Faculty and Staff Tuition Reduction Program offers full- and part-time employees a 15% tuition discount for bachelor's and master's degrees at Franklin.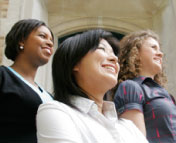 Ready to start an application?
Franklin's student-centered philosophy is one of the many reasons so many students choose us!
START YOUR APPLICATION