Community College Alliance (CCA) Tuition Rates
Your Community College + Franklin University = An Affordable Bachelor's Degree
By choosing Franklin's 3+1 program, you can cut the total cost of your bachelor's degree in half.
After completing your associate's degree, you'll take additional courses toward your bachelor's degree at your community or technical college at the lower tuition rate. When you transfer to Franklin University, the remainder of your bachelor's degree courses taken at Franklin will be at tuition rates that are competitive with other 4-year institutions across the country.
Plus, many Franklin students take advantage of financial assistance that includes grants, scholarships, student loans, and employer reimbursement.

This feature is intended for Financial Aid questions.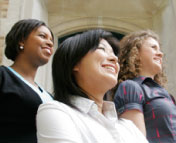 Ready to start an application?
Franklin's student-centered philosophy is one of the many reasons so many students choose us!
START YOUR APPLICATION