Starting College at Franklin University
Franklin is a great option for first-time college or post secondary students.
According to the Bureau of Labor and Statistics, college graduates make roughly $1 million more over the span of their careers than those without a college education. If a college degree is something you want, you can make it happen at Franklin University. We'll support you every step of the way.
Franklin wants you to have a life
When you choose to earn your degree at Franklin, you've got options. You can take classes once a week during the day, in the evenings, or on the weekends. You can also earn your degree entirely online through our Virtual Campus.
Our flexible course formats let you balance your education with work, family, and social commitments so you can start your degree without stopping your life.
Start college early through CCP
Franklin University participates in the College Credit Plus Program which allows qualified high school students to take college level courses before graduation. Plus, since Franklin's courses are offered in the evenings and online, you can take classes without interrupting your busy high school schedule.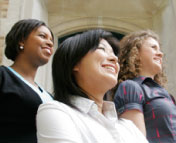 Ready to start an application?
Franklin's student-centered philosophy is one of the many reasons so many students choose us!
START YOUR APPLICATION