College Credit Plus Program for High School Students
The College Credit Plus Program (CCP)
Are you a student in grades 7-12 who wants to get a head start on college? College Credit Plus (CCP) is designed to provide extremely motivated and accomplished high school students with access to college-level coursework. As a bonus, the college courses you take through CCP may also fulfill your high school graduation requirements if approved by your local school district.
Is CCP right for you?
CCP is intended for students who wish to gain skills or knowledge that can only be found in college-level courses. It can also help you see what it's like to take college-level courses, strive toward advanced academic goals, and take classes with students from all walks of life. You should be prepared to handle the academic challenges expected of college students by acting responsibly and being accountable for your studies.
How CCP works:
If you are a student in grades 7-12 you can apply for CCP admission to a public or participating private college.
With CCP, classes at public colleges or universities are free. That means no cost for tuition, books, or fees. If you choose to attend a private college or university, you may have limited costs.
Admittance into CCP is based on your college-readiness in one or more subject areas. Your school counselor can help you understand your options, deadlines, and how to proceed. You may not participate in CCP beyond your anticipated high school graduation date.
Number of college credit hours you can take varies based on your number of high school units for the academic year, with 30 credit hours of college credit hours being the maximum amount permitted by CCP. Your school counselor can provide guidance on this calculation.
Additional questions? Visit the Ohio Department of Higher Education website for more information. https://www.ohiohighered.org/ccp
Applicant Qualifications for CCP at Franklin University:
All CCP applicants must take Franklin University placement examinations and place into WRIT 120, College Writing. If a CCP applicant wishes to take math courses or courses for which prior math credit is a prerequisite, students must achieve placement into MATH 150, Fundamental Algebra. Testing into a lower level of math will not hinder a student's application for admission, rather, the student would not be eligible to take math courses or courses for which math is a prerequisite if accepted.
Program Regulations:
All CCP students must attend mandatory orientation coordinated by the Franklin University CCP Academic Advisor. PF 121, Basic Learning Strategies, must be successfully completed by all CCP students before any other college coursework can be attempted as required of all Franklin University students. This two-credit-hour course will count toward any total credit-hour allotment provided by the student's high school guidance counselor.
Steps to Apply for CCP at Franklin University:
Contact your guidance counselor to learn about your high school's requirements for enrollment in CCP.
Submit completed application (available for download here) to Franklin University. Completed application can be mailed or dropped off at the front desk of the Student Services Center.
Complete Application Addendum and e-mail to admissions@franklin.edu
Mailing Address:
Franklin University
Attn: Admissions Office
201 S. Grant Ave.
Columbus, OH 43215
Student Services Center:
Located at 331 E. Rich St. Columbus, OH 43215
Hours: Monday - Thursday: 8:00am - 7:00pm and Friday: 8:00am - 5:00pm
CCP Application Deadlines: (preferred)
Fall Trimester - June 1
Winter Trimester - November 1
Summer Trimester - March 1
Contact the Franklin University CCP Admissions Advisor to arrange placement testing: Robert Lewis at admissions@franklin.edu or 614-947-6036.
Take placement tests through Franklin's Student Learning Center.
Placement Testing Completion Deadlines: (preferred)
Fall Trimester - July 1
Winter Trimester - December 1
Summer Trimester - April 1
Decision letters will be provided to applicants no later than 14 days prior to the start of the trimester.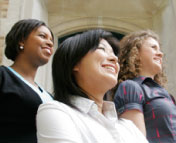 Ready to start an application?
Franklin's student-centered philosophy is one of the many reasons so many students choose us!
START YOUR APPLICATION