Military Students & Veterans FAQ
Q. Who do I contact to get my veteran benefits?
A. First, contact The Department of Veterans Affairs to confirm your eligibility for VA educational benefits. For further questions, contact Franklin's Office of Military and Veteran Affairs (OMVA) at omva@franklin.edu
Q. What benefits may be available for me to use at Franklin University?
A. You may be eligible to one or a variety of benefits listed below, read our Veterans and Military educational benefits information.
Q. What scholarships does Franklin offer to Veterans and service member students?
A. Franklin is a military-friendly institution that provides affordable classes and maximum consideration to the transferability of military experience. Franklin offers a $1,000 military scholarship to one qualified veteran or service member each trimester.
Q. Am I eligible to receive financial aid as a veteran of the U.S. Armed Forces?
A. To be eligible for Federal Student Aid, students must:
Be an admitted student, enrolled in an eligible program of study for the purpose of obtaining a degree or certificate
Not be enrolled solely in remedial coursework
Not be currently enrolled in a secondary school
Have a high school diploma or the recognized equivalent (such as a GED)
Q. Does Franklin offer services for veterans?
A. Yes. We have a number of services for veterans, service members, and current service member spouse/dependent students.
Franklin's Student Learning Center offers tutoring, workshops, and academic assistance, both online and on campus for all registered students.
A student organization – Franklin University Student Veteran's Alliance (FUSVA), a chapter of Student Veterans of America (SVA)
Special services and events
Q. I am no longer in the military. Can I still receive college credit for my training and experience?
A. All documented military experience (for military students or veteran students) will be carefully evaluated by our Office of Transfer and Articulation and maximum credit will be awarded for your military training and experience.
Q. Does Franklin offer tuition discounts to military family members?
A. Yes. Franklin offers military spouses and dependent children of active duty service members a 15% military-family discount on a bachelor's degree and a 10% discount on a master's degree.
Q. What support services are available to service members, veterans and spouses/dependents of service members?
Free tutoring (online and face to face)
Free writing assistance (online and face to face)
Library
Help desk (24/7 online support)
Dedicated, centralized office for academic advising and veterans benefits

Q. What degree programs are offered?
A. Degree Program Page
Q. What degree programs do you offer non-Post-9/11 Montgomery GI Bill veterans?
A. We offer the same Degree Programs and student services to all military students.
Q. I have disabilities and may need assistance. Can accommodations be provided to me?
A. The Americans with Disabilities Act, Section 504 of the Rehabilitation Act, and state and local requirements regarding students with disabilities. In compliance with federal and state regulations reasonable accommodations are provided to qualified students with disabilities. For more information, please contact the Office of Disability Services at: accommodate@franklin.edu.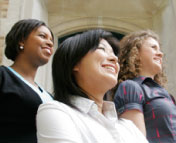 Ready to start an application?
Franklin's student-centered philosophy is one of the many reasons so many students choose us!
START YOUR APPLICATION