Military Educational Benefits
Military Educational Benefits
Paying for your education
There are a number of ways military and veteran students can save on their education. Benefits, scholarships, and transferring credits for previous training can all help reduce the cost of an education. Click on the links below to learn more about these helpful programs.

Post 911 GI Bill® - Chapter 33

The Post-9/11 GI Bill provides financial support for education and housing to individuals with at least 90 days of aggregate service after September 10, 2001, or individuals discharged with a service-connected disability after 30 days. Post 9/11 benefits are provided by the VA up to 36 months and payable for up to 15 years following release from service. You must have received an honorable discharge to be eligible for the Post-9/11 GI Bill.

Yellow Ribbon Program

The Yellow Ribbon GI Education Program (Yellow Ribbon Program) is a provision of the Post 9/11 Veterans Educational Assistance Act of 2008. This program allows institutions of high learning, such as Franklin University, to voluntarily enter into an agreement with the VA to fund tuition expenses that exceed the highest public in-state undergraduate tuition rate. Franklin University has entered into an agreement with the VA to match up to 50% of those expenses and the VA will match the same amount as Franklin University, making the Veteran's out of pocket expense $0.

The VA's academic year 2016-17 cap on benefits (effective for classes that begin on or after August 1, 2016) for students with a 100% eligibility rate the tier is $21,970.46 for Private Institutions of Higher Learning, effective until July 31, 2017.

As of August 1, 2016, the cap on benefits for students with a 100% eligibility rate increases to $21,970.46 for the 2016-2017 academic year.


Montgomery GI Bill (MGIB) - Chapter 30

The MGIB program provides up to 36 months of education benefits. This benefit may be used for degree and certificate programs, flight training, apprenticeship/on-the-job training and correspondence courses. Remedial, deficiency, and refresher courses may be approved under certain circumstances. Generally, benefits are payable for 10 years following your release from active duty. This program is also commonly known as Chapter 30.


Montgomery GI Bill-Selected Reserves (MGIB-SR) – Chapter 1606

The MGIB-SR program may be available to you if you are a member of the Selected Reserve. The Selected Reserve includes the Army Reserve, Navy Reserve, Air Force Reserve, Marine Corps Reserve and Coast Guard Reserve, and the Army National Guard and the Air National Guard.

You may use this education assistance program for degree programs, certificate or correspondence courses, cooperative training, independent study programs, apprenticeship/on-the-job training, and vocational flight training programs. Remedial, refresher and deficiency training are available under certain circumstances.


Reserve Education Assistance Program (REAP) – Chapter 1607

REAP was established as a part of the Ronald W. Reagan National Defense Authorization Act for Fiscal Year 2005. It is a Department of Defense education benefit program designed to provide educational assistance to members of the Reserve components called or ordered to active duty in response to a war or national emergency (contingency operation) as declared by the President or Congress.

This program makes certain reservists who were activated for at least 90 days after September 11, 2001 either eligible for education benefits or eligible for increased benefits.

Effective November 2015, REAP has been sunset by the VA. Students that used REAP in FALL/2015 may still be eligible to continue to use this CH 1607 benefit. However, the VA is determining the approval on a case by case method and contacting students certified under REAP to determine if changing to the Post 9/11 GI Bill is necessary. You can call 1-888-GIBILL1 to speak with a VA representative to learn more about your specific benefits.


Vocational Rehabilitation and Employment VetSuccess Program - Chapter 31

The Vocational Rehabilitation and Employment (VR&E) VetSuccess Program is authorized by Congress under Title 38, Code of Federal Regulations, Chapter 31. It is sometimes referred to as the Chapter 31 program. The VetSuccess program assists Veterans with service-connected disabilities to prepare for, find, and keep suitable jobs. For Veterans with service-connected disabilities so severe that they cannot immediately consider work, VetSuccess offers services to improve their ability to live as independently as possible.


Survivors & Dependents Assistance (Chapter 35)

Dependents' Educational Assistance provides education and training opportunities to eligible dependents of certain veterans. The program offers up to 45 months of education benefits. These benefits may be used for degree and certificate programs, apprenticeship, and on-the-job training. If you are a spouse, you may take a correspondence course. Remedial, deficiency, and refresher courses may be approved under certain circumstances.

The Office of Military and Veterans Affairs (OMVA) at Franklin University certifies VA benefits based on the actual number of weeks enrolled in each training period. Due to our accelerated course formats, full-time enrollment at the University does not necessarily reflect full-time payment for your Veterans Benefits.

Taking classes online vs. on-campus determines the amount of benefit received.The amount of educational assistance is determined by the number of credit hours and the length of training period in which the veteran enrolls. Click here to learn more about the training time schedule for VA benefits.

Receipt of veteran funds is dependent upon your benefit eligibility. Read more for information on when to expect payment after certification.


Ohio National Guard Scholarship Program

Subject to annual funding available from the Ohio General Assembly, the ONGSP provides tuition up to $4,714.00 ($393.00 per credit hour) per trimester to Army and Air National Guard members attending a two- or four-year public or private college or university. The scholarship is available for up to eight full-time trimesters. Scholarship program recipients must maintain good attendance at their unit drills.

Scholarships can provide you with additional financial support while you work toward your educational goals. If you are an Active Duty servicemember or honorably discharged veteran, you may be eligible to apply for Franklin's internal scholarship. In addition, many other scholarships exist eternal to the university. Read on for more information and links to external opportunities.


Military Family Member Discount

Are you the spouse or dependent child of a current member of the U.S. Armed Forces? Your family member sacrifices a lot for our country - and so do you. That's why Franklin offers you a 15% discount on your bachelor's degree and a 10% discount on your master's degree.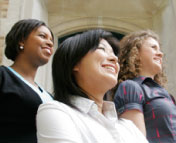 Ready to start an application?
Franklin's student-centered philosophy is one of the many reasons so many students choose us!
START YOUR APPLICATION